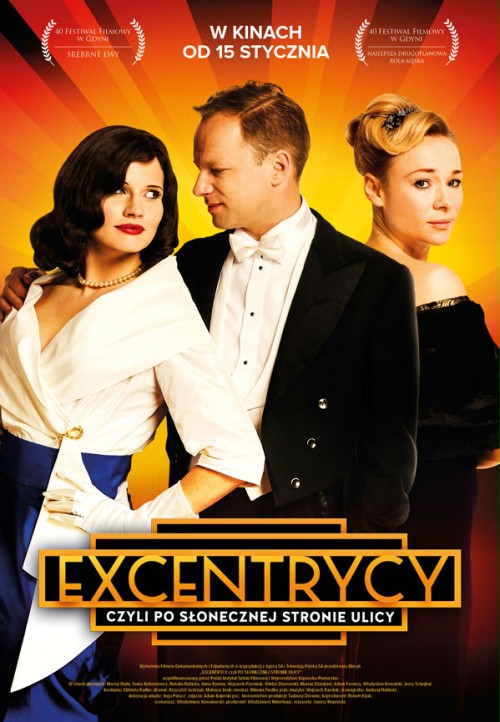 Among the movies I have watched recently, "Eccentrics" by Janusz Majewski is like a happy sunray on a grey day. In this picture you won't find any criminal mystery, murders, buckets of blood, or strange creatures. Instead you will find a sentimental return to the Poland of the 1950s, with humour, an affair and a huge dose of rousing music.

Fabian (Maciej Stuhr), an ex-soldier whose post-war fortune had kept him in the west, returns to Poland from Great Britain. He lives for jazz music and tries to share his passion with those around him. It turns out to be quite easy. He forms an excellent jazz band in Ciechocinek. The musicians practise, play concerts, sensationalize and... have fun. The main character is interested only in music and a young English teacher called Modesta (Natalia Rybicka). The question is whether the difficult time of the 50s will allow him to develop his passions? Will we be able to say that they live and play happily ever after?

The movie reminds us about Ciechocinek, a known health resort from the halcyon days. On the streets you can see beautiful cabriolets, and in sanatoriums they hold tea dances, women have elegant suits and smart hairstyles. Slowly in Poland the situation is changing: Stalinism comes to an end and Gomułka's times allow for more freedom and live jazz music. We know that it wasn't a colourful, carefree time, but Janusz Majewski doesn't show us the more dramatic side of Polish life. We have instead the 1950s with a pinch of salt, retro style sanatoriums, tea in glasses, vodka purchased from "under the counter" and toilet paper rationed in public toilets.

"Eccentrics" features a galaxy of great Polish actors. It doesn't matter whether it is a main or supporting role, every creation is extraordinary. The dancing and singing Maciej Stuhr enraptures us, after which the appearances of Sonia Bhosiewicz and Natalia Rybicka get a round of applause. Anna Dymna, the master of the supporting role, is fantastic as Bayerowa. A couple of short scenes and each of them of a superior quality. The character actor Witold Zborowski is an atypical policeman, and Wojciech Pszoniak as Felicjan Zuppe causes hilarity.

Unquestionably, one of the main characters in this movie is the music by Wojciech Karolak. Brought from the west in a red Bentley by Fabian, it is a symbol of freedom, fun, and a distraction from grey daily life with the police, secret police and corrupt officials.

This picture by Janusz Majewski is buoyant, hopeful and full of appeal. The music makes our legs dance on their own and keeps us smiling from beginning to end.

I recommend it!