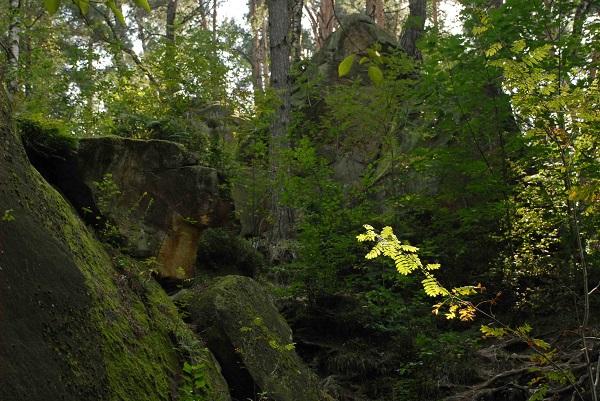 We only get the chance to find out about some interesting places when by coincidence we are in the neighborhood. It was exactly this way, when visiting my daughter at the holiday camp, that we had an opportunity to see the Fossilized City Reserve.

This amazing cluster of geological formations lies close to Ciężkowice in the vicinity of Tarnów and spreads from the Biała River Valley up to the top of Skała Hill. Until the XIX century, the beauty of this place was known only to its residents. The Reserve was created in the 1970s, thanks to which this place was rescued from destruction by tourists wanting to leave behind dubious signs that they were there, and also from stone robbery for industrial purposes. Nowadays, the Fossilized City Reserve is a more and more popular tourist destination. To make this place more accessible for tourists the main path was upgraded, stairs and handrails were built in the most difficult places, the trail was marked, an educational path was created with information about the various rocks, and the most interesting places were illuminated. A nice surprise was the fact that entrance to this place is free.

Wandering the picturesque slope of Skała Hill, every minute we noticed stony formations that completely didn't fit in with the surrounding nature. Every one of them got its name from its unique shape and colour. We passed by the Witch with a hooked nose, the stately Town Hall consisting of five vertical walls, huge Grunwald with a commemorative plaque and entrance to Grunwald Cave, Hell with an abnormal red colour and many other interesting places. Many of these huge rocks were overgrown by a pine forest. It is difficult to believe that these durable trees have found enough space and soil to grow roots in the rocky rifts.
more

»