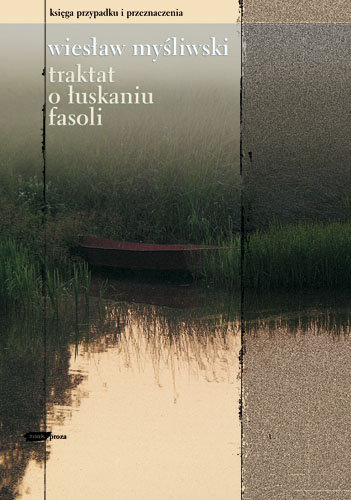 I have never done bean shelling, but I know that there are activities which do not bother me too much, and while doing them my hands work automatically and my thoughts can drift away where they want. For me, such activities are dishwashing and... running. They perfectly help me to prepare a work plan, set my impressions in order and digest everything that happened lately.

When my kids saw the book I was reading recently, they asked – "Really? A guy sits, shells beans and tells his life story and... nothing happens?" Yes .... exactly. "A treatise on Shelling Beans" is only a life story, but it is written in such a way that you cannot put the book down. I read it in small doses so as not to finish it too early.

There are some people who can talk nicely. They can talk equally entertainingly about chilling adventures and funny everyday stories. Wiesław Myśliwski can do it like nobody else. The words create the story on their own, one thread follows another, digression follows digression and they complement each other. Such people you listen to with pleasure, and you never have uncomfortable silence.

After reading many spooky crime stories I needed a break, something fresh and new. I found it reading "A treatise on Shelling Beans". It is a calm story about life, a summary of days gone by, a reflection on whether we influence our life or it is simply a combination of coincidences and different conceptions of destiny. You will not find adventure or surprising twists in the plot, but only a heart wrenching life story. There is something of memories from hot summer afternoons, grandparents' stories by the fireplace and family anecdotes passed through the generations. Everyone will find something from their own life. The man in the story is always a man with strengths and weaknesses, with feelings, thoughts and choices.
more

»