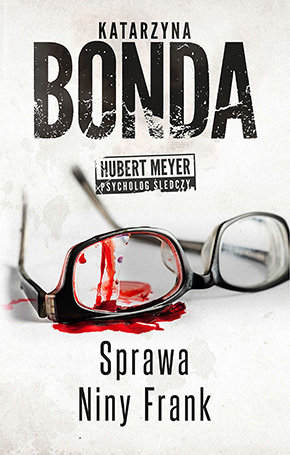 "Only dead people don't lie", the second crime story by Katarzyna Bonda, encouraged me to read her other books. Recently, in order to catch up, I got hold of her first novel and I was not able to put it down.

In the "Nina Frank case" we meet the policeman Hubert Meyer and learn about his professional successes and the fact they do not match the failures in his private life. He isn't a common lawman who drives around in a police car. He doesn't shoot or arrest anybody; he is a perishingly intelligent and perceptive police psychologist-profiler, who has formulated a method for describing criminals.

The action of the novel unfolds in two parallel worlds. The first is Mielnik by the River Bug – a calm and idyllic village. Everybody knows each other. They shop in the same place and pray in the same church, and afternoon TV series are their only recreation. The second world is the dirty but seemingly shiny world of show business in the big city. Nina Frank – the most popular Polish serial actress – is the connection between the two worlds. She tells her story from beyond the grave through pictures from a diary. On the one hand we meet a beautiful woman who is as nice and saintly as the character of the nun she plays, but on the other hand we have a flurried girl who makes bad choices in a world full of alcohol, drugs and lovers. The desire to get something better than her mother's work as a librarian, the prospect of fame and money push her to get involved in dirty tricks, sins and scams. Like a moth that's flown too close to the flame, the young girl from a good home meets with disaster. Hubert Meyer has to help unravel the murder of this beautiful actress.
more

»