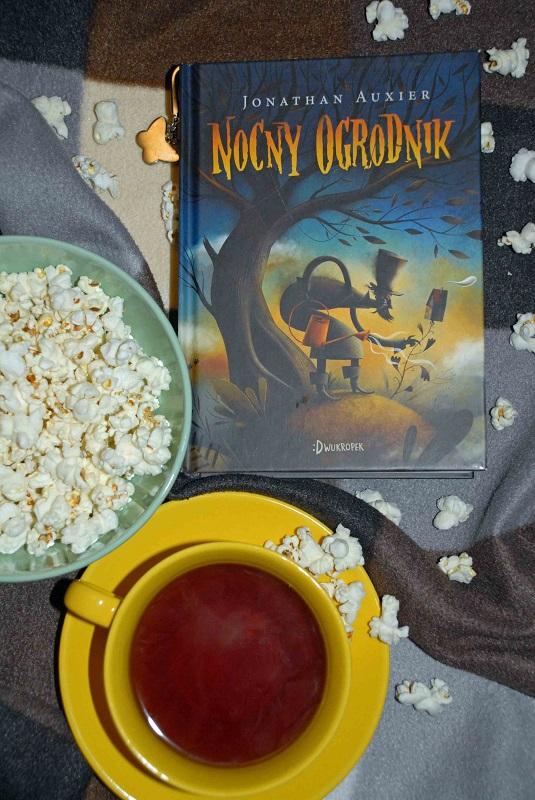 Going into my daughter's room is like entering a fantastically well-stocked library. She received such a large number of books for Christmas, her birthday and Saint Nicholas' Day that I hoped they would last at least until the spring. I was so naïve

. Despite the fact that some of her beloved books really don't appeal to me, when I go into her room and poke around I always find something for myself.

When I recently, encouraged by the sombre cover, reached for "The Night Gardener" by Jonathan's Auxier my daughter, with a twinkle in her eye, warned me: "Remember, it's my book!" Now I know why she guards it so jealously. It is for sure the best book for teenagers that I have read recently. I can say that everyone, both younger and older readers, will find something of value.

With few exceptions plants, especially trees, are viewed positively. "The Night Gardener" is all about a tree which has dark associations from the beginning. Some orphaned kids go to work for a family in an old property in Windsor. The house, the neighbourhood, and the residents of the house give us the shivers and the reader's first reaction is the desire to scream at the main characters: "Turn tail!" After this we impatiently turn the pages to find out about the characters' fates. The pervasive terror and mystery wrap their tentacles around the new residents. The property, surrounded by a forest with the mysterious name "The Sour Woods", is both a shelter for the homeless siblings and also a mortal danger. It turns out that the tree grants people their biggest desires. It might seem like a dream come true. However, just like in real life, nothing is for free. The dark and forceful character of the Night Gardener heightens the horror.

In this novel you will find: happiness and sadness, the hard reality of daily life and the fabulous world of the imagination, wealth and extreme poverty, goodness and cruelty, longing and love. Just like in real life the appearance of the world around us can deceive. Something worrying or frightening can be good, and what seems like a dream come true is actually risky and treacherous. The fluid language, colourful characters, atmospheric surroundings and skilful build-up of suspense mean that it is really difficult to put this book down.

The characters must make a difficult decision between what they want most and the future and their safety. They see how important faith and honesty are. It turns out that family relations can very easily be destroyed if our own needs are the only thing we really desire.

I really must read more books by Jonathan's Auxier. But right now I strongly recommend "The Night Gardener"!

Read also:
Girls have the power: "The Gutsy Girl. Escapades for Your Life of Epic Adventure" by Carolina Paul
"The Girl Who Drank the Moon" Kelly Barnhill
"Rupieciarnia na końcu świata" ("Lumber room, in the middle of nowhere") by Agata Mańczyk