Summer is a mental state, not only a season. With this slogan we were welcomed by an extremely outgoing and pleasant barmaid in a cocktail bar on Krucza Street 16/22. Though it is a typical place for drinks, the presence of children doesn't marvel anyone. Cocktail Bar Max promises fruity dizziness. Close your eyes, imagine exotic fruit, what does it look like? How does it taste? And now ... try it!.
Our order was short: non-alcoholic drinks, colorful and intensely fruity. After a moment the master of fruits brought before us four huge glasses. On the edge of them were big pieces of watermelon and this was only the beginning. The many fruits were presented as fabulous fully edible decorations. When it seemed that nothing more would fit on the glass, the barmaid added another layer of fruit. I didn't know their names and I ate maybe three of them. Some of the fruits were sweet, the others so sour that I was not able to swallow them. One of them was less decorative, whereas the others looked like exotic birds of paradise: starfruit, grapes, rambutan, watermelon, pitaja (sometimes called 'dragon fruit' or 'strawberry pear'), kumquat, cherimoya (aka pudding apple) are just some of them.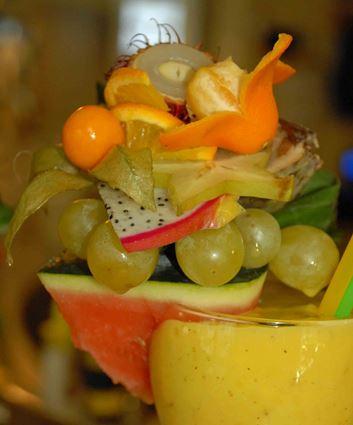 Then each of us got a different cocktail. Depending on whether we preferred more or less sweet, yellow, orange or red, the barmaid skillfully created a combo in a mixer choosing from countless frozen food storages and fridges: mangos, pineapples, persimmons, papayas, passion fruits, pomegranates and watermelon, but also our domestic fruits: strawberries, blueberries, and raspberries. She patiently answered the numerous questions of  my children. After a few minutes, all that was left was to taste it. I could give a thousand adjectives to describe the cocktails. I'll say only that they were all imaginative and simply very tasty.
If you would like for a moment to run away from everyday life, reinvigorate yourself with exotic tastes, lift your mood or simply drink something delicious, then visit this place. Adult clients and connoisseurs of short drinks also surely won't be disappointed because they will find lots of types of alcohol from all over the world. Cocktail Bar Max in Warsaw is one of a few in Poland. You may find a similar place in Jastrzębia Góra, Sopot and reportedly there are more on the way.
I recommend it!