You might know that Francuska Street is the main street of Saska Kępa, but did you know that Saska Kępa was not always called "Saska"? It used to be Kępa Wiślana because it was an island on the river, then it was Kępa Solecka because it belonged to Solec Village, and then Kawcza and Holenderska. It came to be called Saska because August III Sas discovered the place and was fond of having picnics there.
Francuska Street was built in 1925 and though it is difficult to believe it now, at first it ran through an empty square without any buildings. 
Saska Kępa is associated with Agnieszka Osiecka, a Polish poetess, author of lyrics, writer and film and theatre director. On Francuska Street no. 31 was café Sax. Agnieszka Osiecka was an habitué as for most of her life she lived just two streets away. Reputedly she used to sit at a small table next to the wall and write poems on paper napkins. On the façade of the building in which she lived there hangs a genuine memorial with the lyrics of "Małgośka" one of Agnieszka Osiecka's greatest hits.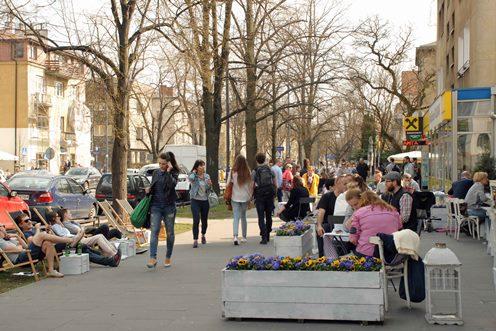 At the corner of Francuska Street and Obrońców Street there is the popular café, Rue de Paris. In fact it is a pancake restaurant. Since 2007 there has been a monument to Agnieszka Osiecka sitting at a round café table.
This place must have some kind of magic power. The tranquillity of the narrow green streets enthralled a lot of artists. The composer of modern music Tadeusz Baird lived here, and Jan Cybis the painter and colourist had his own studio.
In one of the gardens an outdoor sculpture gallery was created by artists from Saska Kępa. During the World Intellectualists' Congress in 1948 Pablo Picasso walked along these streets.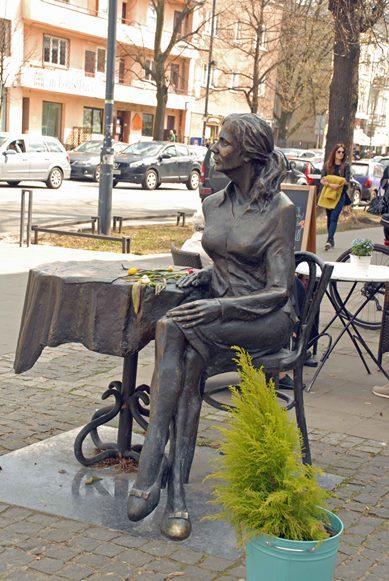 As in a lot of Warsaw corners you can find traces of history here. Next to new buildings and apartment complexes and family homes you can find buildings which bear scars from the Second World War. The building at Berezyńska Street is one such unusual memento. Its sandstone clad façade surprises us with a raft of bullet holes in the walls. This is a memento of Poland's defence of Warsaw in 1939.
I discovered Francuska Street after a general overhaul when the road surface and pavements were replaced. Fortunately, along the whole street the trees still remain, and due to this it still has the character of an avenue. On a nice sunny day, city places like this are priceless. Francuska Street has always been the heart of Saska Kępa and after the overhaul it is the very heart of it. It is a place of family walks and meetings with friends. Especially in the summer it is crowded, lively and buzzing. You can sit down, drink coffee and eat tasty cakes or huge ice-creams in one of the numerous cafés. Some of them have outdoor tables and some of them have lawn chairs and boxes instead of tables. You feel as if you were in a picturesque Parisian corner. If you still have not done so, go and find this place for yourself. If you do know it, maybe I will see you on Francuska Street.
Information taken from "Spacerownik Warszawski" J.S Majewski, D. Bartoszewski, T.Urzykowski