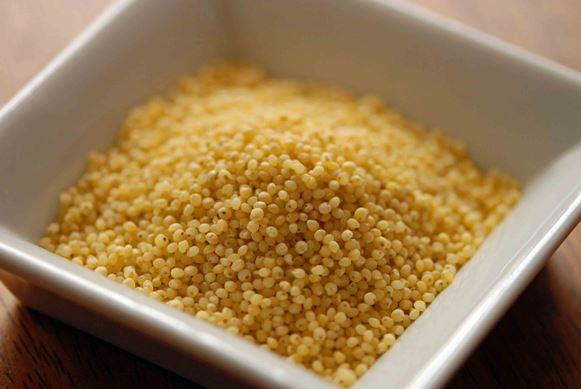 Millet groats are one of the best and oldest types of groats. As well as a lot of nutritional value they have another advantage which is critical in culinary terms: They go with both salty and sweet dishes.
They have a little starch, but a lot of easily assimilated protein, vitamins from the B group, iron and copper. Millet groats are light and don't provoke allergies because they don't contain gluten. Not many people know that they are a natural rhinorrhoea remedy because they have antivirus properties and reduce inflammation of mucosa. Millet groats are a very valuable product for students and people who hard work because they contain a lot of vitamin E and lecithin and improve memory and concentration. Women who care for their hair, skin and nails should eat them because they are a rich source of silica and prevent osteoporosis.
Modern cooking puts speed and convenience first. It generally suits me but when it comes to cooking millet groats I follow my grandma's and mum's instructions. I tried to cook millet groats "from the bag" but notwithstanding the cooking time, they had a pappy texture and I didn't like them.
Today a few instructions on how to cook crumbly and tasty millet groats.
more

»