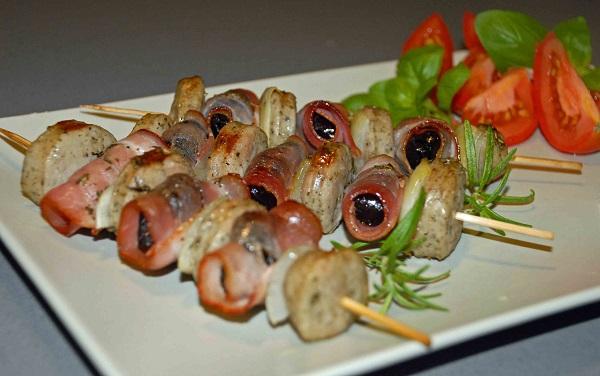 I have always associated white sausage with Easter. I used to prepare long, baked white sausage with horseradish and serve it with celeriac salad. Sometimes I add it to white borscht. In these dishes I use a raw white sausage.

Recently, I found ready-baked white sausages in the shop. On the same day, they went into my fridge and I thought about what I could prepare with them. It is best to buy something first and then look for the idea for a dish

. This time I managed it. I quickly prepared shish kebabs with white sausages, bacon, dried plums, and onion. Rosemary was excellent seasoning for them.

This dish is excellent as a hot supper, but it could also be great for a summer barbeque. Don't forget to serve it with horseradish and prepare a light salad.

Ingredients (for 6 shish kebabs)
3 white sausages
1 onion
9 slices of bacon
18 dried plums
more

»