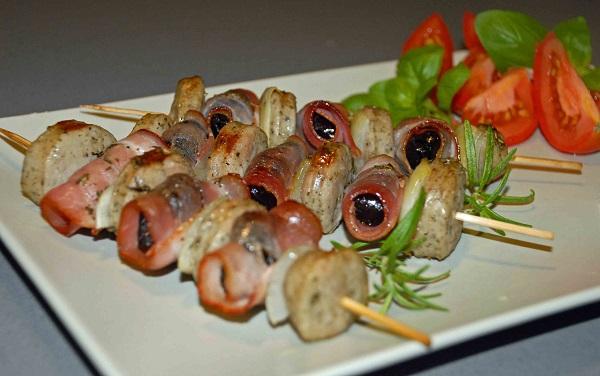 I have always associated white sausage with Easter. I used to prepare long, baked white sausage with horseradish and serve it with celeriac salad. Sometimes I add it to white borscht. In these dishes I use a raw white sausage.

Recently, I found ready-baked white sausages in the shop. On the same day, they went into my fridge and I thought about what I could prepare with them. It is best to buy something first and then look for the idea for a dish

. This time I managed it. I quickly prepared shish kebabs with white sausages, bacon, dried plums, and onion. Rosemary was excellent seasoning for them.

This dish is excellent as a hot supper, but it could also be great for a summer barbeque. Don't forget to serve it with horseradish and prepare a light salad.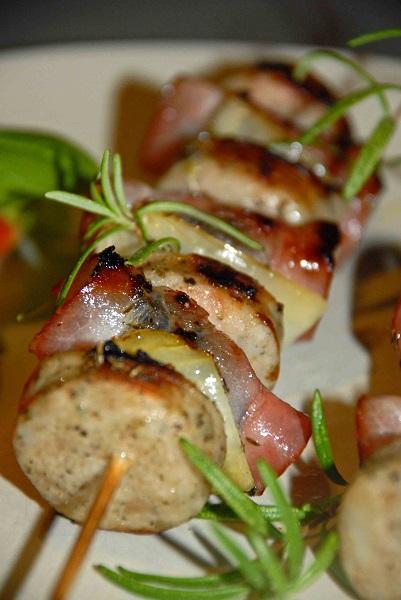 Ingredients (for 6 shish kebabs)
3 white sausages
1 onion
9 slices of bacon
18 dried plums
4 tablespoons of olive oil
1 tablespoon of minced rosemary
1 tablespoon of dried thyme
salt and pepper

Slice the sausages into 8 pieces of 1 cm each. Roll every plum up with half a slice of bacon. Cut the onion into pieces. Put the sausages, plums and onion onto the shish kebab sticks. Stir together the olive oil, rosemary and thyme, and spice it up with salt and pepper. Sprinkle the shish kebabs with the sauce. Leave in the fridge for one hour.
Heat the oven up to 185C and bake the shish kebabs for 20-25 minutes. You can grill them as well.

Enjoy your meal!