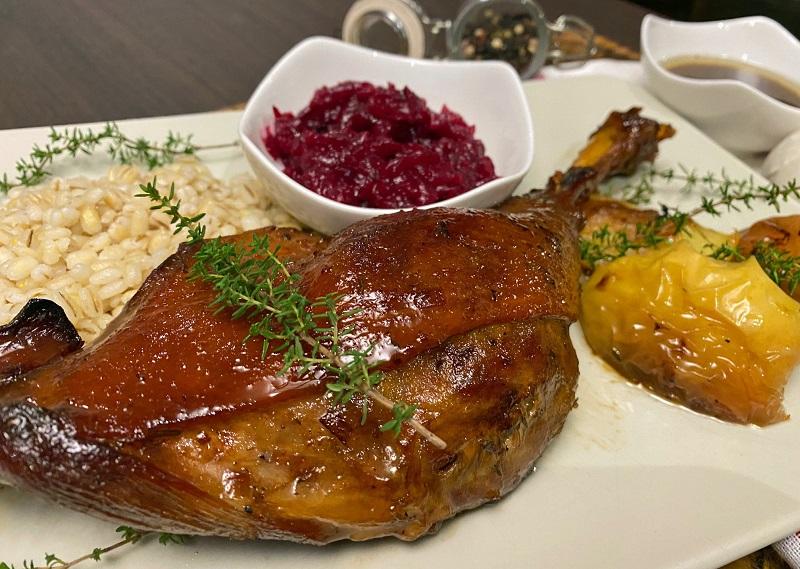 11th of November is traditionally a day when you serve goose in Poland. This tradition also exists in Sweden, Hungary, Slovenia, Austria and Germany. Poland is also the main producer of this delicious meat, so in almost every aforementioned country there is Polish goose. Nevertheless, this type of meat is not popular here. We remember about it only on 11th of November and then forget about it for another year. Even though the 11th of November was a long time ago, I wanted to offer you goose for dinner (maybe for Christmas dinner?). You can add marjoram, thyme, juniper, ginger and caraway seeds, and you usually serve it with apples, cranberries, dried plums, beetroots and red cabbage. I marinated the goose thigh for 12 hours in a marinade made of soy sauce with rosemary, thyme and garlic, and in the end I applied apricot jam, so it would blush beautifully. I will immodestly declare that this dish was amazing and the smell of roasted meat meant that it was hard to wait for dinner.

Ingredients:
4 goose thighs
2 tablespoons of oil
2-3 tablespoons of apricot jam
250ml of chicken bouillon
5-6 dried apricots
marinade
5 tablespoons of soya sauce
2 tablespoons of olive oil
3 cloves of garlic
1 chili pepper
2 tablespoons of lemon juice
2 tablespoons of honey
1 tablespoon of chopped rosemary
1 tablespoon of chopped thyme

Clean the goose thighs and dry them with a paper kitchen towel. Crush the garlic and chop the chili pepper. Mix all the ingredients of the marinade and mix it with the meat. Leave in the fridge for a night. Heat the oven up to 160C. Fry the goose thighs in oil. Put them into a casserole dish and add the rest of the marinade. Add the bouillon, apricots and bake under cover for 2 hours. Turn the goose thighs and bake for another 2 hours. Pour some sauce from the casserole dish onto the meat. Heat the apricot jam to make it into a liquid. Remove the lid and spread the goose thighs with the apricot jam. Heat the oven up to 190sC. Roast the meat without the lid for 10 minutes. Serve with beetroot and pot barley.

Enjoy your meal!

Try also:
Awesome fish soup
On the Christmas table – łazanki - noodles with cabbage and mushrooms
Cake pops – chocolate-cinnamon Christmas trees