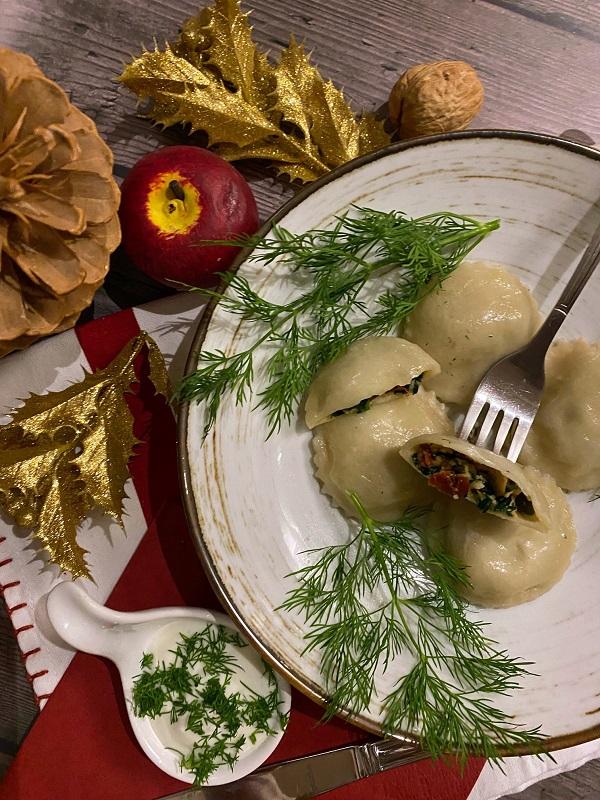 Sometimes I wonder which dishes you serve at Christmas. Maybe you are a traditionalist and have old, yellowed recipes for dishes which you love and always make? Maybe you like to experiment and on your Christmas table there are dishes from all over the world? And maybe a little bit of all of them? Traditional food but with something new?

We like most of the traditional Christmas dishes, but for some time we have rejected meals which were always there but nobody liked them. Now I don't make dried carp and mushroom soup, but I prepare sander and red borsch with dumplings.

Today I would like to share with you a recipe for new dumplings. They are traditional because they don't contain meat, but also new because they are with fish. I used roast salmon to make the stuffing for these dumplings. If somebody doesn't want to risk making these new dumplings for Christmas, maybe they should keep the recipe for the future. I recommend them!

Ingredients:
dough:
500g of flour
4 tablespoons of oil
250-300 ml boiling water
a pinch of salt
stuffing:
300g of roasted salmon
250g of fresh spinach
4-5 big dried tomatoes from olive oil
2 tablespoons of small capers
1 shallot
2 cloves of garlic
1 teaspoon of butter
salt and pepper

Put the flour, salt and oil into a bowl. Pour in enough boiling water to cover the flour. Don't mix it in. Leave for 15 minutes. After that, knead into a smooth and resilient dough.
Melt the butter in a pan. Add the chopped shallot and garlic and fry for a while. Add the diced dried tomatoes and chopped cappers. Fry for a while. Add the salmon and spinach and fry until the spinach is blanched. Take the stuffing out of the pan and chop it up. Spice with salt and pepper and mix them in.
Sprinkle a pastry board with some flour. Roll the dough out so it is thin and flat. Cut circles from the pastry with a glass. Put a tablespoon of the stuffing onto the centre of each circle. Glue each dumpling together with your fingers to make a "furbelow" (a series of little notches along the edge). Boil in salty water for 3-4 minutes. Serve with horseradish sauce.

Enjoy your meal!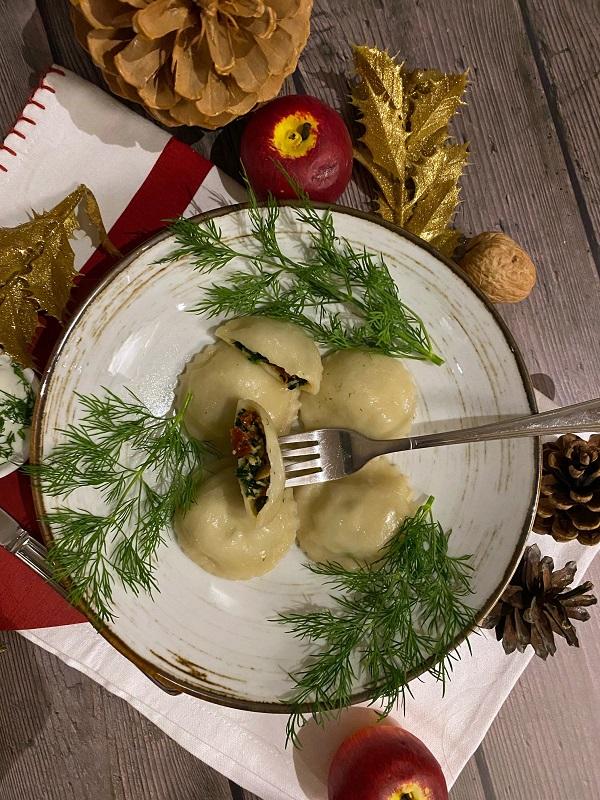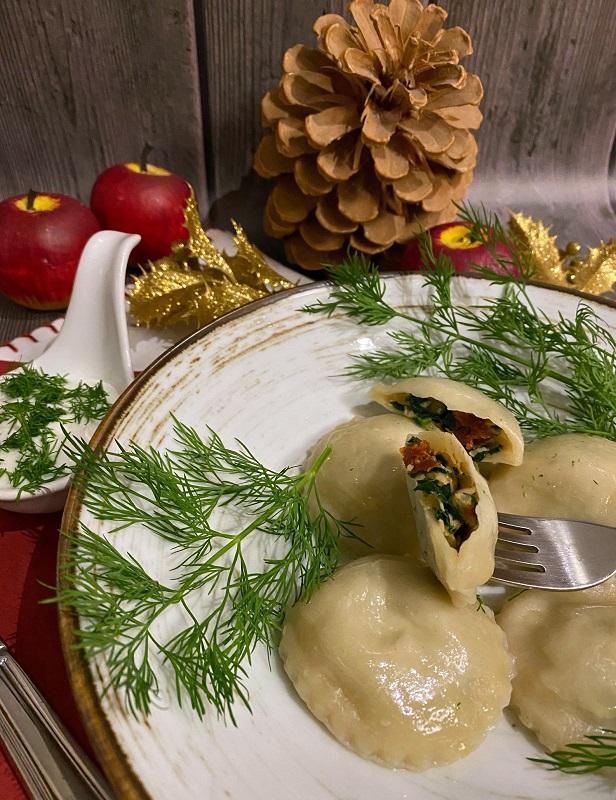 Try also:
Lemon salmon in caper sauce with broccoli puree
On the Christmas table – łazanki - noodles with cabbage and mushrooms
Awesome fish soup