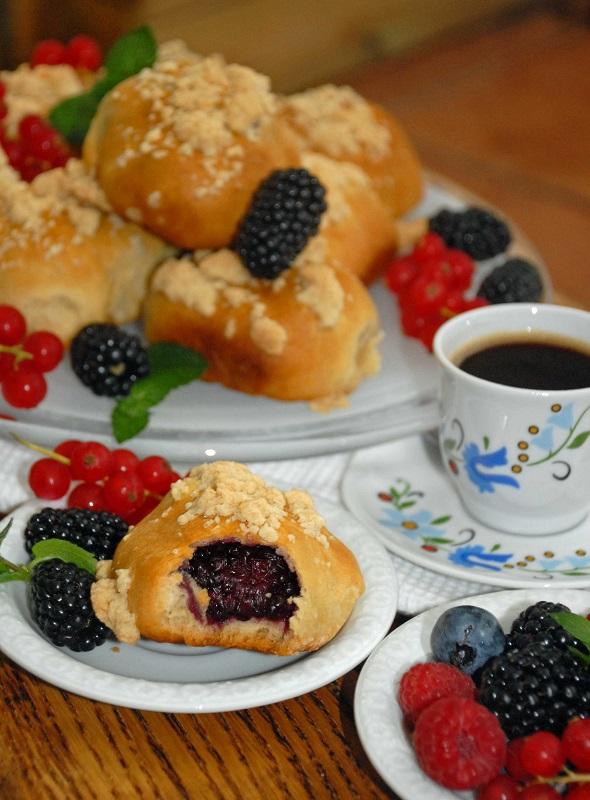 When we go on holiday, the preparation of afternoon teas and desserts is replaced by ice cream, waffles and cafes. When we come back, the appetite for home baked goodies is huge, so this time, after we came home from some coastal fun I prepared buns with blackberries. They look just like classic blueberry buns, but the taste of buns with blackberries is unique. If yours aren't as sweet as you want them to be, just add half a niblet of white chocolate. I assure you that the result will be great. I recommend it!

Ingredients (10 buns)
dough
250g of flour
7g of dry yeast
1 egg
75g of sugar
125ml of milk
40g of butter
a pinch of salt
filling
200ml of blackberry
1 teaspoon of corn flour
2 teaspoons of caster sugar
crumble topping
50g of flour
25g of caster sugar
25g of cool butter

Mix together the flour and dry yeast. Add the rest of the ingredients (except the butter) and knead the dough until it doesn't stick to your hand. Then add the melted butter (leave 2 tablespoons of the butter for later) and knead it again. The dough should be soft and flexible. Put the dough into a bowl sprinkled with flour and cover with a clean cloth and leave in a warm place for an hour and a half.
Make the crumble topping. Mix the flour and caster sugar in a bowl. Add the cool butter and knead the mixture.
Heat the oven up to 180C. Cover a cake tin with some baking paper.
Wash the blackberries. Put them into some small bowls. Add the corn flour and 1 teaspoon of caster sugar. Stir gently.
Knead the dough again. Roll out the dough and cut it into 10 rectangles.
Put the blackberries onto the centre of each rectangle. Stick each bun together and put it onto the baking paper with the seam of the dough facing down. Leave in a warm place for 20 minutes. Smooth the top of the buns with the rest of the butter and sprinkle with the crumble topping. Bake for 20-25 minutes. Decorate the baked buns with some icing or sprinkle with the caster sugar.

Enjoy your meal!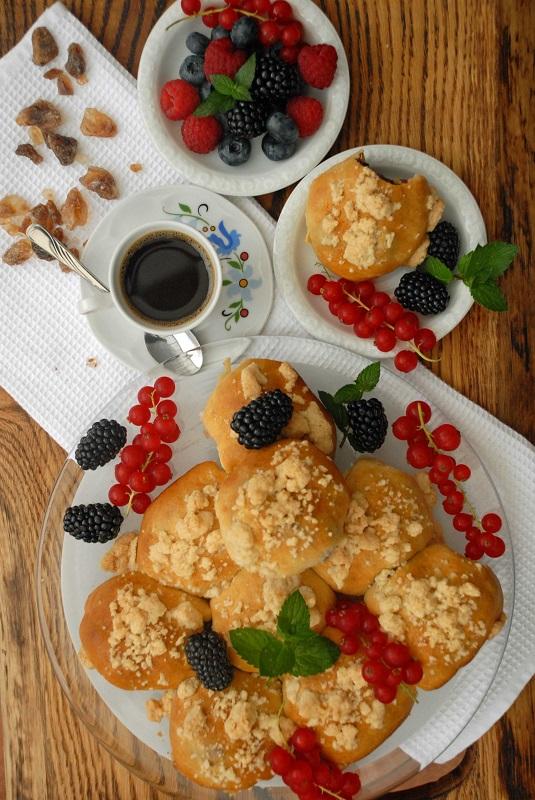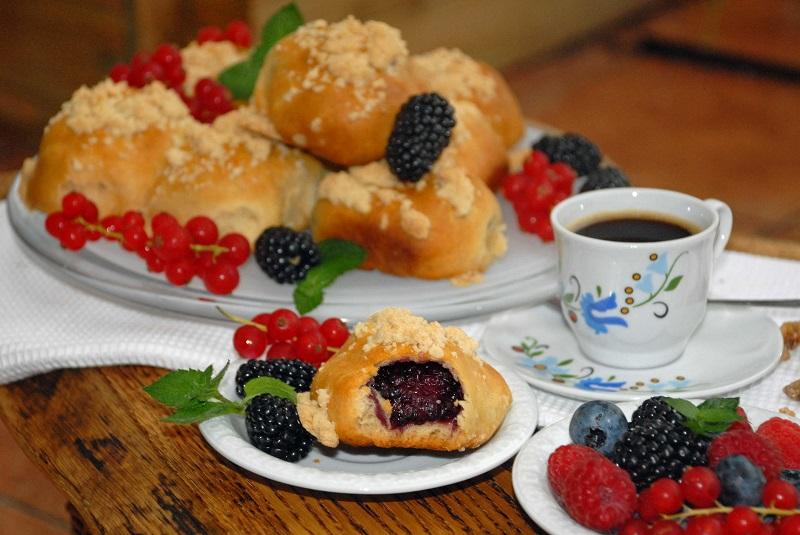 Blueberry buns – sweet symbol of the summer
Celebrating Children's Day – yeast buns with raspberries and crumble topping
Homemade buns with plums