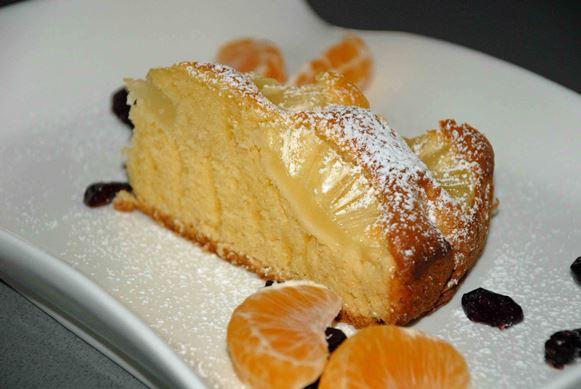 I didn't know that cake with pineapple from a tin is an American invention. First I made it, then I did some digging and now I know all about it. In the original recipe, it is an upturned cake. I made my own version with pineapple slices on top, just like I usually do when making cakes with fruit. Next time I will do it the American way.
This is one of those cakes which is tastier the next day, when the cake is moist from the fruit. It is simple, cheap and perfect with afternoon coffee at home.
Ingredients:
125g of butter
270g of flour
4 eggs
1 teaspoon of baking powder
125g of sugar
3 tablespoons of desiccated coconut
1 tablespoon of vanilla sugar
3 tablespoon of caster sugar
1 tin of pineapple
50ml of light rum
Heat the oven to 180C. Cover a cake tin with some baking paper.
Melt the butter on a low heat and leave to cool down.
Mix the flour, baking powder, sugar and vanilla sugar together. Add the eggs and butter and stir until the dough is smooth. Add the rum and four tablespoons of pineapple sauce from the tin. Stir once again. Pour the dough into a cake tin. Sprinkle with the desiccated coconut. Arrange the pineapple slices on top. Bake for 40 minutes. Sprinkle the baked cake with caster sugar.
Enjoy your meal!