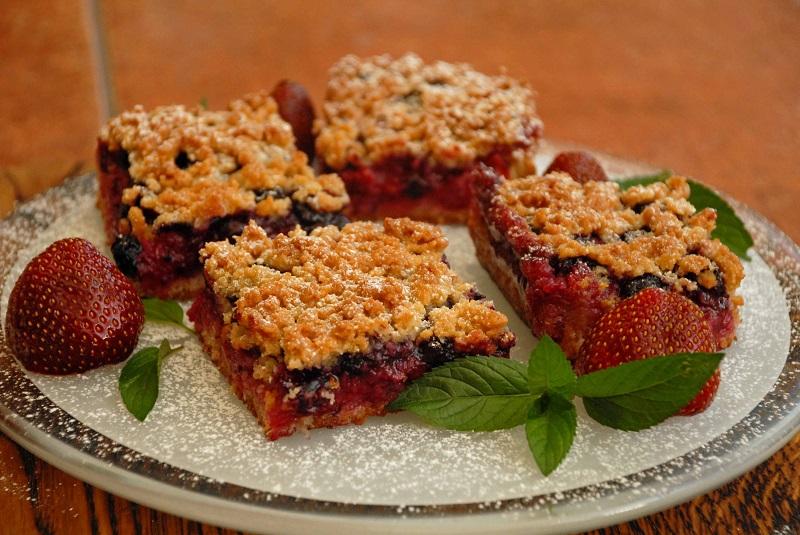 Because of the fact that the summer is the fruit season, I think that it's a sin if you don't use them. My children at least twice a day ask me to prepare bowls with fresh fruit. They get a mixture of the fruit which I bought at the market. They most often eat strawberries, raspberries, blackberries and blueberries, and often also peaches and apricots. We rarely eat fresh currants. I buy them sometimes and use them for preparing desserts or cakes.

Today I would like to share with you the recipe for a cake with currants (red and black) and desiccated coconut. It is an unusual combination, but it is really good. I recommend it!

Ingredients (20×20cm cake tin)
dough
250g of flour
1 teaspoon of baking powder
100g of brown sugar
100g of butter
2 tablespoons of desiccated coconut
1 tablespoons of cream
coconut layer
8 tablespoons of desiccated coconut
2 tablespoons of butter
2 tablespoons of sugar
additional ingredients
200g of red currants
100g of black currants
1 tablespoon of cornmeal

Put the flour onto a baking board, make a large dimple in the flour and put the other ingredients of the dough inside it. Chop it all up with a knife. When you have the consistency of crumble topping, you have to knead the dough quickly. Divide the dough into two parts – 2/3 and 1/3. Cover the pieces of the dough with plastic wrap and put them into the freezer.
Wash the currants and remove the shanks. Mix the fruit with the cornmeal.
Melt the butter and mix it in with the desiccated coconut and sugar.
Grate the bigger part of the dough onto a baking sheet. Put the currants and coconut layer onto it. Grate the rest of the dough onto the top. Bake for 50 minutes. Sprinkle with the caster sugar before serving.

Enjoy your meal!

Try also:
The hit of the weekend – almond cake with strawberries and crumble topping
Strawberry cake with blancmange
Peaches with an oat and coconut crumble topping