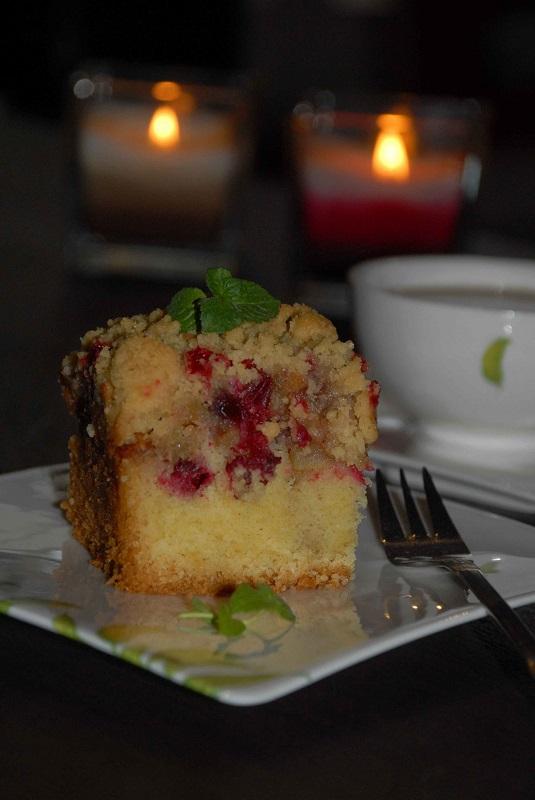 The worst thing about my cranberry-apple cake is the way it looks. It didn't look impressive, but it was so yummy it disappeared from the baking pan before it had completely cooled down. My children said that it was a colourful apple pie, and it really was something like that. Apples with cinnamon are the basis of apple pie – one of my favourite cakes. However, the sour cranberries make it more fresh and interesting. The crumble topping was, for my son, the most important part of the cake. I had to drive him away, because otherwise the cake would have been deprived of its crunchy top.

Ingredients (18×26cm cake tin ):
dough
200g of flour
150g of butter
3 eggs
1 packet of powdered vanilla blancmange
1 teaspoon of vanilla essence
200g of sugar
1 teaspoon of baking powder
pinch of salt
fruit
250g of fresh cranberries
1 apple
3 tablespoons of brown sugar
1 teaspoon of cinnamon
crumble topping
5 tablespoons of brown sugar
100g of butter
150g of flour
First make the crumble topping. Put the cool butter, flour and sugar in a bowl. Knead them until you have small lumps. Leave it in the fridge.
Heat the oven up to 180C. Cover a cake tin with some baking paper.
Mix the flour with the baking powder and salt. Cream the butter with the sugar. Add egg after egg to the butter, stirring constantly. Add the flour, vanilla essence and powdered vanilla blancmange. Mix it together until you have a smooth dough. Put the dough into the cake tin. Wash the apple, remove the apple core and cube it. Mix the cranberries, apple, sugar and cinnamon in a bowl. Put the fruit on top of the dough. Cover the fruit with the crumble topping. Bake for 50 minutes.

Enjoy your meal!

Try also
Memory of summer – cherry-coconut cake
Recipe for a homelike aroma, i.e. a cake with wild cherries
Strawberry cake with blancmange