I like halvah very much, but on a ten-point scale, I estimate its sweetness as fifteen

.

I have prepared recently a very simple dessert with halvah, which doesn't cause hyperglycaemia after the first bite. In this dessert I combined the characteristic sesame taste of halvah with a hint of orange and cherry confiture to sharpen the flavour and for decoration. If the confiture you have is too thick, heat it up a bit, so that the purple cherry sauce spills out appetisingly onto the dessert .

Ingredients (for two people)
150g of mascarpone cheese
100g of vanilla halvah
the juice and peel from one orange
100g of oat-sesame cookies
3 tablespoons of cherry confiture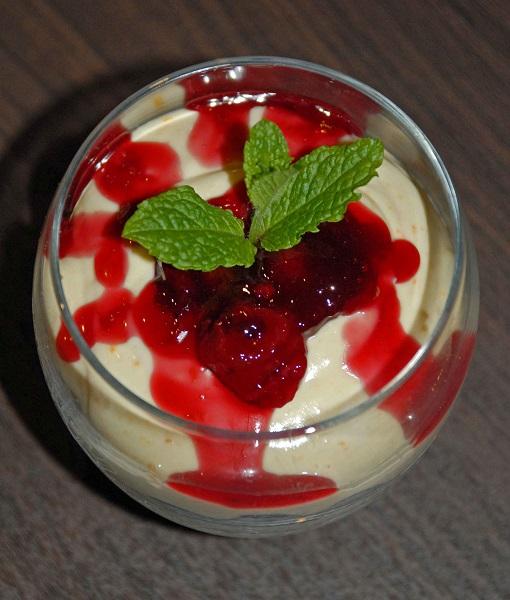 Cream the cheese and halvah to make a smooth mass. Add the oran
ge juice and peel and stir it in. Put the cookies in a plastic bag and crush them with a rolling pin. Put the cookies into some tall glasses. Add a layer of halvah cheese, a layer of cookies and a last layer of cheese. Decorate the top of the dessert with the cherry comfiture. Leave for one hour in the fridge.
Enjoy your meal!