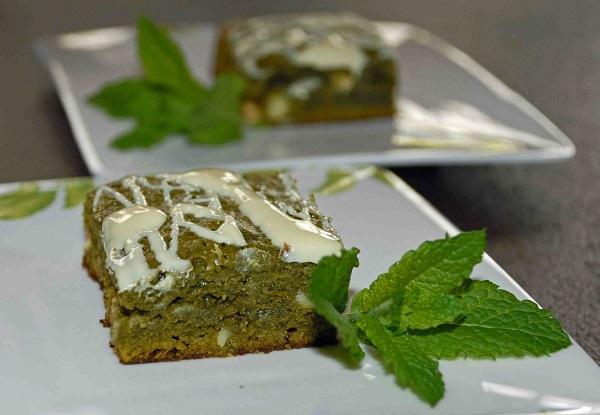 When I put on the table my recently made cake, my family looked incredulous – green, maybe with cabbage or worse still with spinach. I calmed them down a bit with the information that one of the main ingredients is chocolate. Cake and chocolate – it sounds familiar, but this colour ... The secret of the colour and taste of the cake is matcha – a special kind of Japanese green tea. It differs from normal green tea in that it grows in the shade, which is what gives it its intense green colour. The leaves are harvested by hand, dried and triturated.

Matcha is a rich source of antioxidants, which could prevent the progression of cancer, hypertension, heart disease and diabetes. Additionally, it rejuvenates, speeds up the metabolism, reduces stress, boosts immunity and lowers cholesterol.

Matcha is a versatile product. With it you can prepare not only tea, but you can also add it to cakes, cocktails, yoghurts and ice-creams.

The brownie which I prepared with matcha was my first but definitely not my last encounter with this remarkable tea. I'm not the author of the recipe for this cake. I found it in my recipe book, but unfortunately, there was no source.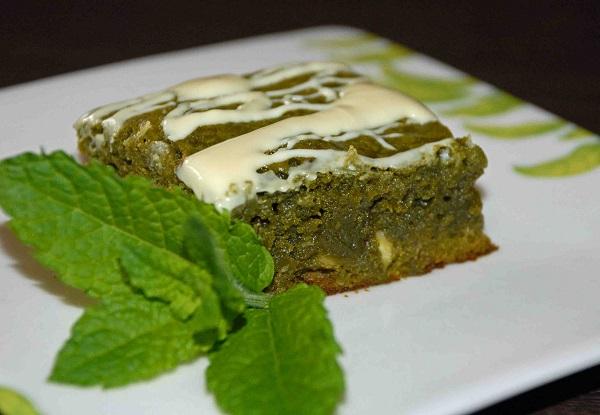 Ingredients:
110g of butter
300g of white chocolate
200g of sugar
3 eggs
80g of flour
3 tablespoons of matcha
40g of almonds

Heat the oven up to 200C. Cover a baking sheet (16 × 24cm) with some baking paper.
Melt 200g of the chocolate and the butter in a bain-marie and leave it to cool down slightly. Add the sugar and mix it up with an egg whisk. Add each egg in turn, mixing it in thoroughly every time. Add the flour, matcha and mix it in. Chop up 40g of chocolate and the almonds without their skin. Add them to the dough. Put it onto the baking sheet. Bake for 5 minutes, then cover with aluminium foil and bake for another 20-25 minutes. Leave for 30 minutes before serving. Melt the rest of the chocolate in a bain-marie and decorate the cake with it.

Enjoy your meal!