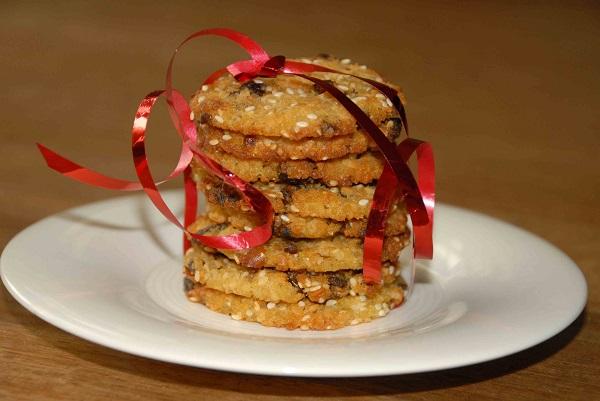 Sometimes, to surprise our children, I put something sweet in their lunch boxes. I try to prepare something sweet but healthy and attractive. My daughter asked me not to pack the most delicious things in her lunch box because she is generous and shares her food, and then there's not enough for her. I solved the problem. I make twice as much and pack a large amount of treats for school.

I would like to share with you a recipe for millet groats-date cookies. They are not too sweet and so yummy that I couldn't resist them myself. If you like crunchier cookies you should turn on the convection oven to dry your treats.

Ingredients
100g of millet groats
60g of dried dates
70g of almonds
70g of butter
2 tablespoons of honey
half a teaspoon of vanilla essence

Heat the oven up to 180C. Cover a baking sheet with baking paper.
Boil the millet groats in salty water for 17 minutes. It should have a dry consistency. Leave to cool down. Mince the almonds thoroughly. Dice the dates, melt the butter and leave to cool down. Crush the millet groats with a fork, add the rest of the ingredients and mix them in. Form round thin cookies and bake them for 30 minutes.

Enjoy your meal!