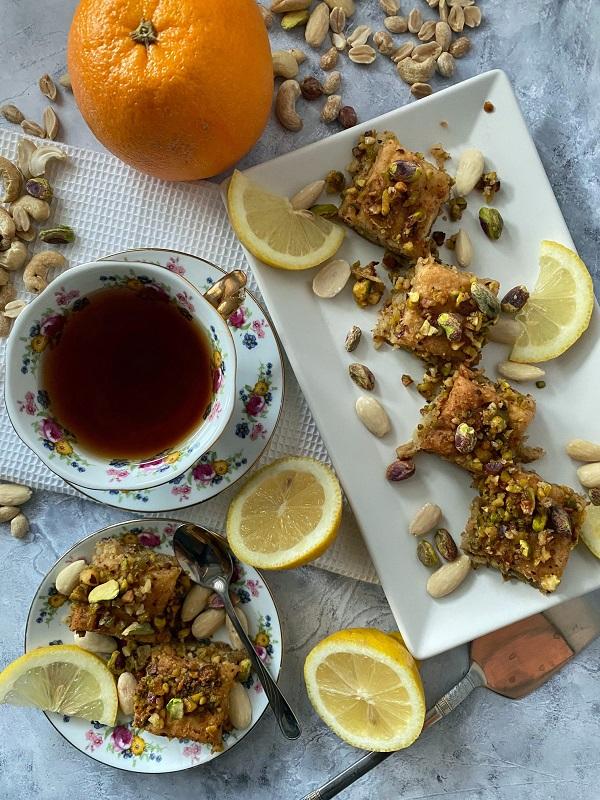 For a few years I have loved eastern sweets. I know that they are extremely sweet, but I eat them nevertheless. Well, everybody has their weakness. As well as chocolate, I love baklava and Turkish delight - the traditional treat, usually fruit-flavoured and jelly-like, textured with coconut shreds or nuts, and served as a cube in icing sugar. I don't think I need to introduce baklava to anyone. I love its layeredness and sticky sweetness. My favourite is pistachio flavour. I dream about the summer vacation in Turkey, where baklavas in different flavours were available everywhere.
A few days ago I decided to prepare baklava in my own kitchen (using master Paweł Małecki's recipe from Lidl's culinary website). It was absolutely delicious and surprisingly easy. I recommend it to everyone who loves eastern sweets 

Ingredients
1 pack of chilled French pastry
60g of melted butter
200ml of water
150g of sugar
2 tablespoons of lemon juice
2 tablespoons of honey
150g of chopped almonds and cashew nuts
100g of chopped pistachios (without shells)
1 tablespoon of flour
Make the lemon syrup. Put the water, sugar, lemon juice and honey into a pan. Heat it until the ingredients dissolve, stirring from time to time. Boil for 2-3 minutes until the syrup is slightly thick. Leave to cool down.
Heat the oven up to 180C (with convection).
Smooth a baking sheet with some melted butter. Divide the French pastry into three rectangles. Sprinkle them with some flour and roll them out to the size of the baking sheet. Put the first part of the dough onto the baking sheet and smooth with some butter. Mix the almonds, cashew nuts and 50g of pistachios. Divide them in half. Put the first half of the nuts onto the baking sheet. Cover the nuts with the second part of the dough. Smooth with some butter and sprinkle with the rest of the nuts. Put the last part of the dough onto the nuts and press lightly. Cut the dough with a sharp knife to make small squares. Smooth the top of the dough with the rest of the butter. Bake for 40 minutes until the cake is thicker and slightly golden. Sprinkle with the rest of the pistachios before the end of baking. Pour the lemon syrup onto the baklava. Leave to cool down.
Enjoy your meal!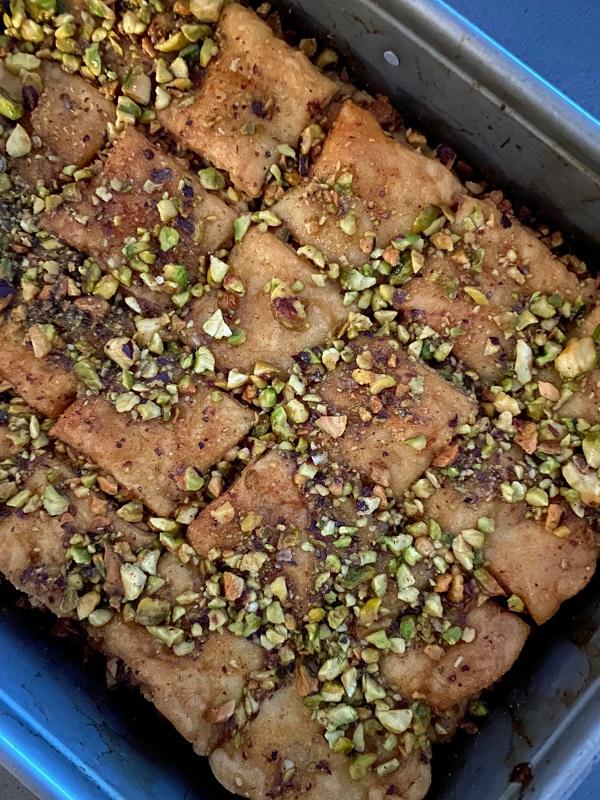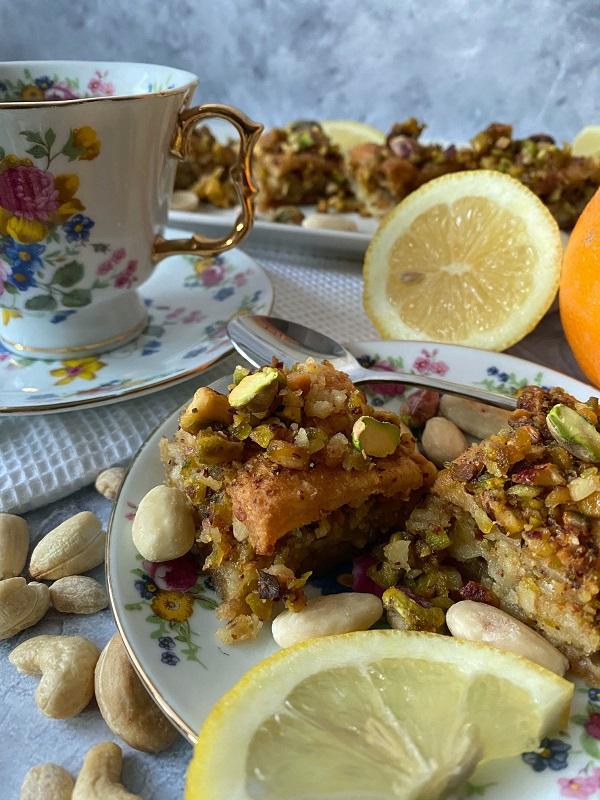 Try also:
Basbousa: a crazily delicious cake from the Middle East