Crumble pie is one of my favourite desserts. I usually make a couple of small dishes because each of us likes to eat this dessert in their own way. I like it hot like lava with cold yoghurt. My children wait until it is completely cool, and my husband likes it lightly cooled with vanilla ice cream. I use different fruit in this dish: forest fruit, strawberries, rhubarb, apples, apricots and plums. Additionally, I like to change the crumble topping. Sometimes I add shredded coconut, vanilla essence and rolled oats. Today I would like to share with you the recipe for peaches and raspberries under a chocolate crumble topping. Immodestly I can tell you the dessert was excellent. As usual my kids said - yummy for my tummy. 

Ingredients:
8 peaches
200g of raspberries
100g of butter
140g of flour
100g of brown sugar
2 tablespoons of cocoa
100g of chocolate drops

Heat the oven to 185C. Cut the butter into small pieces, and then add the sugar, cocoa and flour. Stir the mixture until it has the consistency of wet sand. Add 50g of the chocolate drops and mix them in. Put it into the fridge. Peel the peaches, remove the stones and cube them. Smooth your ovenware with butter, add the peaches and raspberries and put the crumble topping onto the fruit. Bake it for 20-25 minutes until the dessert is a light brown colour. Sprinkle the hot dessert with the rest of the chocolate drops.
Enjoy your meal!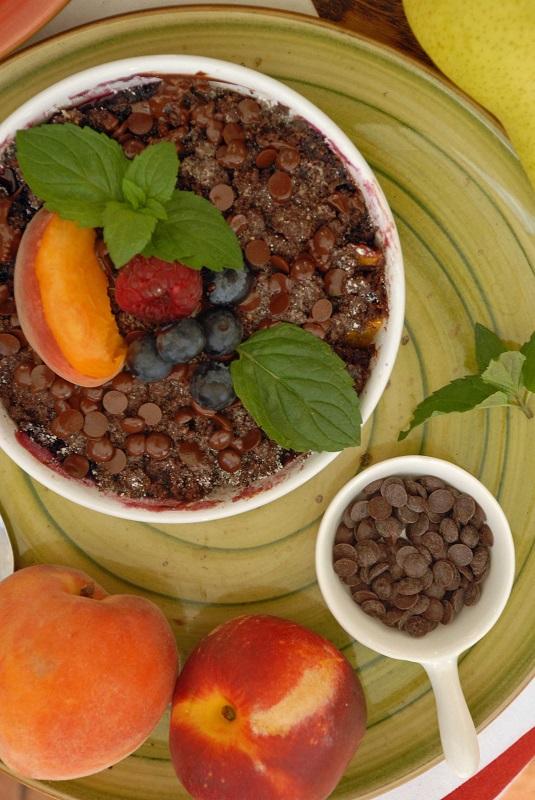 Try also:
Rhubarb and strawberries under a coconut crumble topping
Summer symbol – mild wild strawberries and stracciatella cream
Mini mango cheesecakes with pomegranate and blueberries