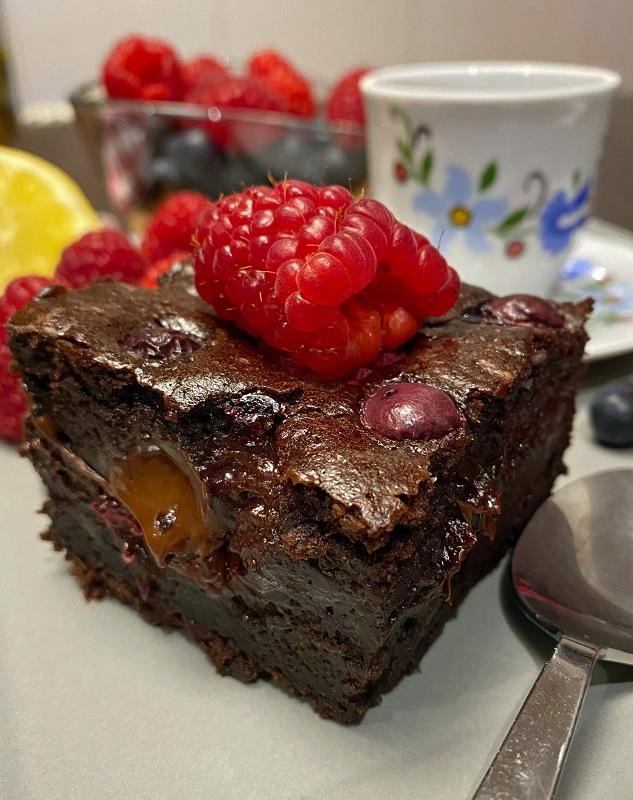 When I want to make something nice for my son, I prepare pancakes or something similar. For my daughter I can make tatar, herring or... brownie. Because the last two weeks were especially arduous for her, I decided to make this cake at the end. I have already made a lot of different brownies. This time I chose vegan-brownie (almost, because I added white and dark chocolate) with a lot of raspberries and blueberries. Hot green tea, a big piece of hot brownie with runny chocolate inside was what my tired teenager needed. She ate and... fell asleep. Let her sleep it off.

Ingredients (25cm cake tin)
250g of flour
125g of cocoa
300ml of oil
300ml water or vegetable milk
1 teaspoon of vanilla essence
200g of brown sugar
1 teaspoon of baking powder
12 pieces of white chocolate
12 pieces of dark chocolate
a pinch of salt
raspberries and blueberries

Heat the oven up to 180C. Cover a baking tin with some baking paper.
Mix the vegetable milk (or water) with the oil and vanilla essence. Mix the flour, cocoa, sugar, baking powder and salt in a separate bowl. Add the wet ingredients to the dry ingredients and mix them in for 4-5 minutes until the dough is smooth and fluffy. Put the dough into the baking tin. Put the chocolate pieces on top and press them down into the dough. Arrange the fruit on the top of the dough. Bake for 35-40 minutes.

Enjoy your meal!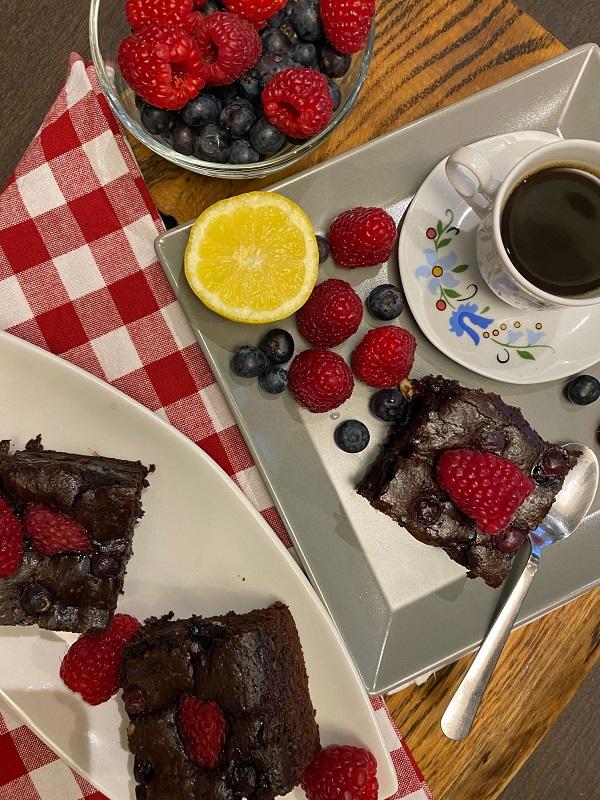 Try also:
Small chocolate-raspberry cake
Basbousa: a crazily delicious cake from the Middle East
Chocolate paschal dish