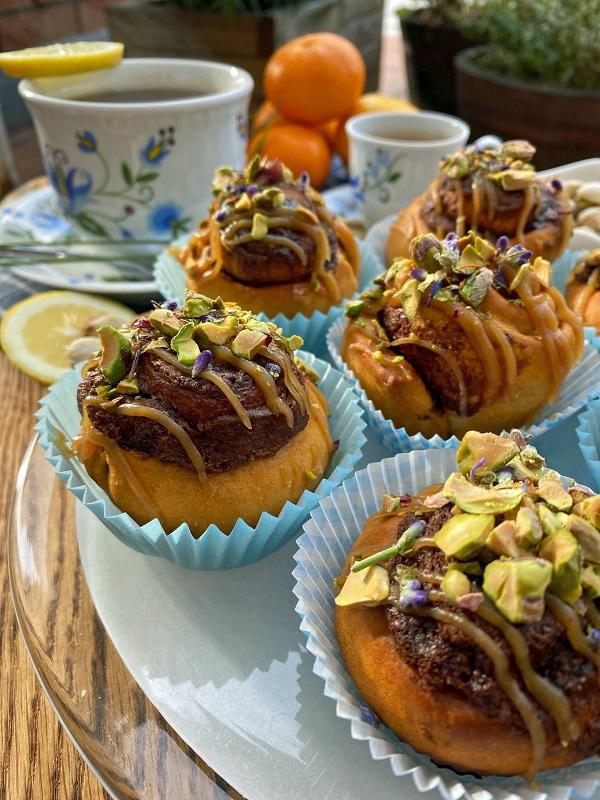 Of all cakes and cookies my children like muffins the most. They love all of them: with fruit, crumble topping or icing. I bake muffins often because they are yummy, easy to prepare and you don't need to use sophisticated ingredients. You can bake muffins which suit any event: in spring with lemon and courgette, in summer with a lot of fruit, in autumn with pumpkin and plums, and in winter spicy muffins with ginger and nuts. Today I would like to share with you the recipe for yeast muffins with Nutella, peanut icing, salty pistachios and dried flowers. They are fragrant, yummy and beautiful. I recommend them!

Ingredients (12 muffins)
dough
250g of flour
7g of dry yeast
1 egg
75g of sugar
125ml of milk
40g of butter
a pinch of salt
4-5 tablespoons of Nutella
icing
3 big tablespoons of peanut butter
3 tablespoons of warm water
a pinch of salt
a fistful of salty pistachios

Mix together the flour and dry yeast. Add the rest of the ingredients (except the butter) and knead the dough until it doesn't stick to your hand. Then add the melted butter (leave 2 tablespoons for later) and knead it again. The dough should be soft and flexible. Put the dough into a bowl sprinkled with flour, cover with a clean cloth and leave in a warm place for an hour and a half.
Blend the peanut butter thoroughly with warm water and the rest of the maple syrup. Chop the pistachios.
Heat the oven up to 180C. Prepare some silicon muffin cups.
Knead the dough again. Roll out the dough into a large rectangle, spread with the Nutella and wrap the dough up along the longer edge. Cut them into 3-cm slices. Put them into the muffin cups and spread with the melted butter. Leave in a warm place for 20 minutes. Bake for 18-20 minutes. Decorate with the peanut butter icing, and sprinkle with the chopped pistachios and dried flowers before serving.

Enjoy your meal!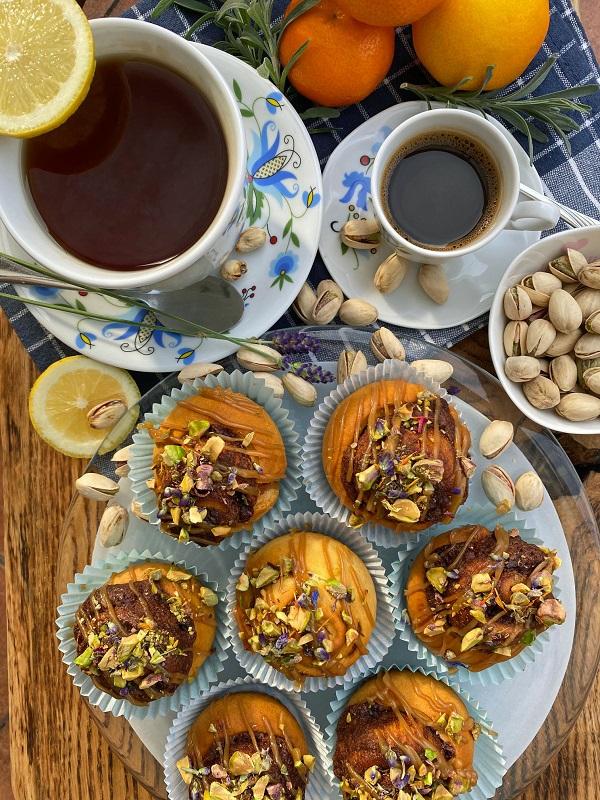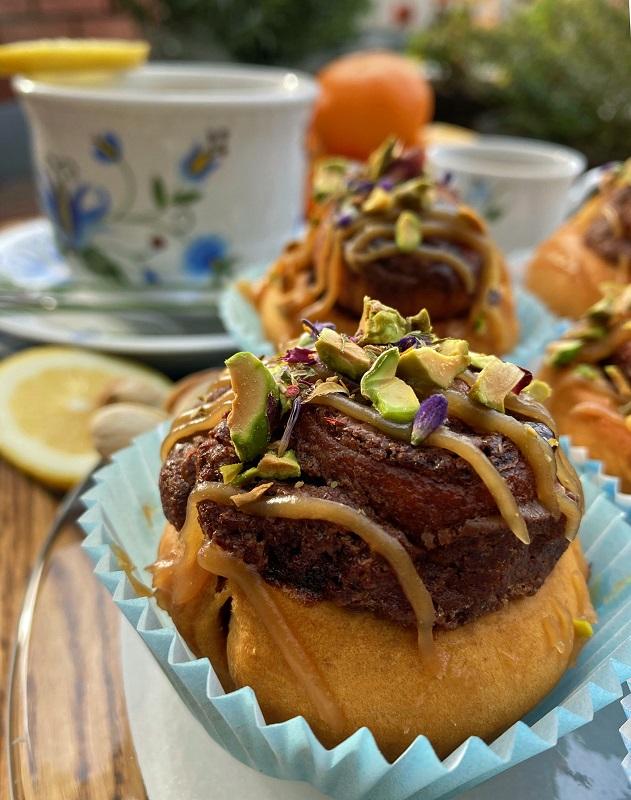 Try also:
Celebrating Children's Day – yeast buns with raspberries and crumble topping
Homemade buns with plums
I welcome the Christmas atmosphere, i.e. my cinnamon rolls
.