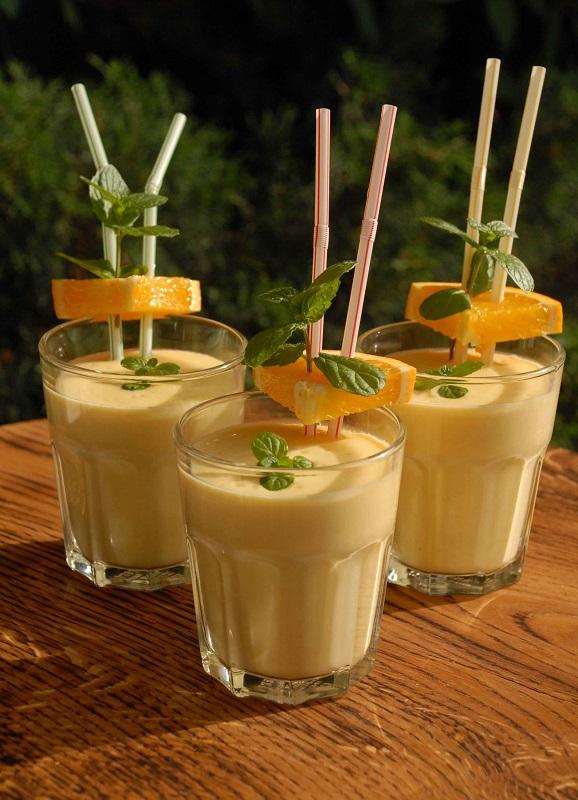 Ripe and sweet mango is the secret of an excellent mango lassi. In Poland it is difficult to buy yellow and very sweet mango, so I promise myself that someday I'll make this drink with fruit "from the tree". For the present, I have to use mango which I can buy in Poland. The recipe for mango lassi is very easy, and the cooling drink is wonderfully refreshing and yummy. It is excellent for a hot summer afternoon. My children said that it is yellow yoghurt

. The original recipe has water among the ingredients, but we like it when mango lassi is a bit thicker. I don't add water, but I use only natural yoghurt. On the internet I found a recipe for mango lassi with kefir. I haven't drunk it yet, but maybe next time I'll try it.

Ingredients
2 ripe mangos
400ml of natural yoghurt
4-5 tablespoons of orange juice
3 tablespoons of maple syrup

Wash and peel the mango. Remove the stone. Blend the flesh with the yoghurt, orange juice and maple syrup. Try it. If it is too sour – add more maple syrup. Serve chilled with leaves of peppermint.

Enjoy your drink!

Try also
Mini mango cheesecakes with pomegranate and blueberries
Healthy breakfast for everybody
Mango and white chocolate in French pastry