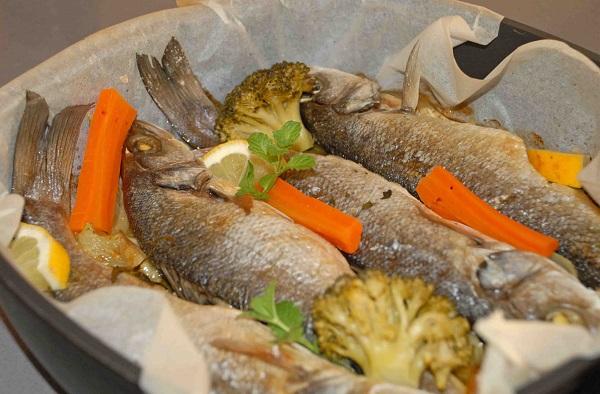 What do you associate with holidays at the seaside? For me, apart from the beach, waves and sun, I think of fish – fried, grilled, smoked and the freshest you can imagine. Small fish, fresh from the cutter, baked on a griddle and crunchy as crisps, is the most pleasant snack on the boardwalk.

Recently, I was pleasantly surprised by the fish selection in one of my favourite markets. It appears that I can buy fish which we know from holiday dinners by the Adriatic Sea. Sea bass, also known as bar or moron, is a sea fish living in the Mediterranean, North sea and Black Sea. It is bred due to its exceptional palatability in Greece, Italy, Turkey, Spain and Croatia.

I recommend it baked or grilled with herbs and citrus fruits, though its gentle white meat doesn't need too many ingredients.

Ingredients:
4 sea bass
6 cloves of garlic
4 spring onions
100g of butter
2 tablespoons of olive oil
8 tablespoons of fresh minced herbs: coriander, dill, basil
3 sprigs of rosemary

Heat the oven up to 180C. Cover a casserole dish with some baking paper and dot it with olive oil.
Clean the gutted sea bass and spice up their insides with salt and pepper. Peel 2 cloves of garlic and slice them. Fill the fish with 3 slices of garlic, 1 teaspoon of butter and 2 tablespoons of herbs. Arrange the fish in a dish. Put 1 teaspoon of butter on every fish. Arrange the unpeeled cloves of garlic, cut the spring onion in half and put the sprigs of rosemary between the fish.
Bake with the lid on for 35 minutes. Remove the lid and bake for 5 minutes to lightly brown the fish. Sprinkle with lemon juice. Serve with your favourite steamed vegetables.

Enjoy your meal!