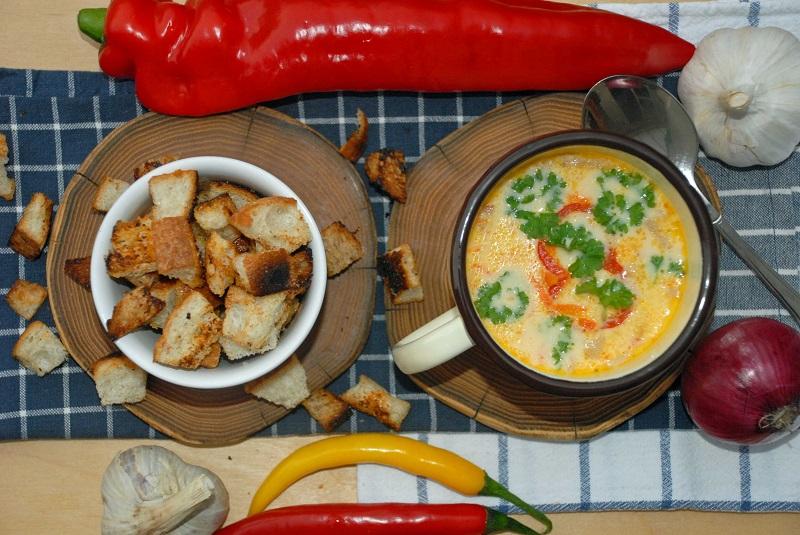 I have a few recipes for soups which rescue me when I have to prepare something warm for lunch or dinner. These are: tomato soup, green bean soup, cream of courgette and, recently, cheese soup. I have made cheese soup before, but a simple version. This time I used a recipe by Jakub Kuroń. This Neapolitan version of cheese soup was with bacon, carrot and red pepper. My older version wasn't so good. I prepared crunchy croutons for my cheese soup, but you can use crunchy bread. My children were delighted and had a second helping. I recommend it!

Ingredients:
300 g of cream cheese
1l of vegetable bouillon
100 g of cubed bacon
1 small leek
1 carrot
a piece of celery root
1 parsley root
1 sweet red pepper
2 chopped cloves of garlic
1 tablespoon of oil
1 teaspoon of butter
2 bay leaves
3 allspices
salt and pepper
croutons or crunchy fresh bread
2-3 tablespoons of chopped parsley

Slice the leek, grate the carrot, parsley root and celery. Chop the garlic and slice the red pepper.
Melt the butter with the oil in a pan. Add the bacon, leek and garlic and fry for 2-3 minutes. Add the bay leaves, allspices and grated vegetables, pour in the bouillon and bring to the boil. Add the cream cheese. Mix until the cream cheese is dissolved. Boil for 10 minutes. Add the red pepper and boil for a while. Spice the soup up with salt and pepper. Serve with chopped parsley.

Enjoy your meal!

Try also:
In defiance of viruses – creamy garlic soup
Ginger-orange soup with new carrots
Something for warming up on a cold autumn afternoon – goulash soup with mincemeat