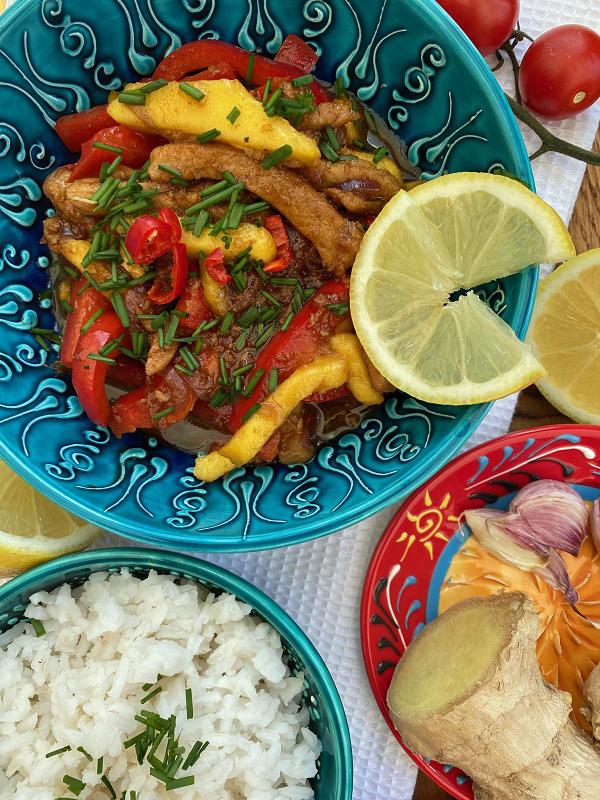 Beautiful, ripe and sweet mango is a rarity for us. So when I managed to buy some I decided not only to eat it as it is or in a salad or dessert, but to make a dish out of it. With a little help from the internet (www.kwestiasmaku.pl) I found a recipe for a quick and incredibly delicious dish with pork and mango. The stew was served with rice and it tasted like a real Chinese dish. I recommend it to every lover of this type of food and to those who have just started their journey with it. For preparation of this dish I used pork fillet, and despite the price I really recommend it. It is very subtle and it is quick to prepare. If you use a different type of meat, you will have to extend the time for making it. In the original recipe you add mango while cooking. I added it with pepper at the end. Thanks to this it didn't overcook and stayed crispy.

Ingredients:
1 pork tenderloin
1 mango
1 red pepper
1 red onion
2 cloves of garlic
a piece of ginger
a piece of chili powder
1 tablespoon of potato flour
1 tablespoon of oil
salt and pepper
2 tablespoons of chopped chives
sauce
3 tablespoons of lemon juice
3 tablespoons of water
5 tablespoons of soya sauce
2 tablespoons of brown sugar

Prepare the sauce first – mix all the ingredients of the sauce in a bowl. Leave in the fridge.
Boil the rice.
Clean the pork tenderloin of its white parts and cut into thin strips. Add salt and pepper. Add the potato flour and mix it in. Peel the mango. Cut the red pepper and mango into strips. Slice the onion. Chop the chili pepper. Peel and grate the ginger and garlic.
Heat one tablespoon of the oil in a pan. Add the onion, garlic, ginger and chili pepper and fry for a while. Take them out of the pan. Heat the rest of the oil in the pan. Add the meat, and fry for 2-3 minutes on a high heat. Add the fried vegetables and mix them in. Fry for 2 minutes. Add the pepper and mango, pour in the sauce. Boil for 2 minutes until the sauce is thick. Serve at once with chopped chives and rice.

Enjoy your meal!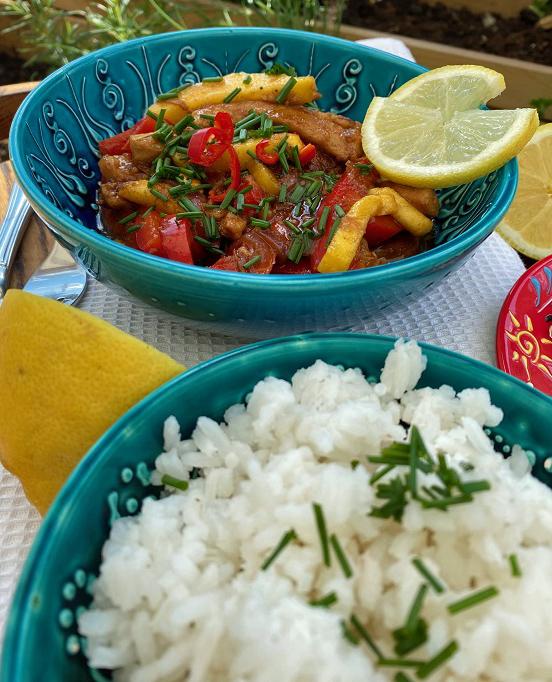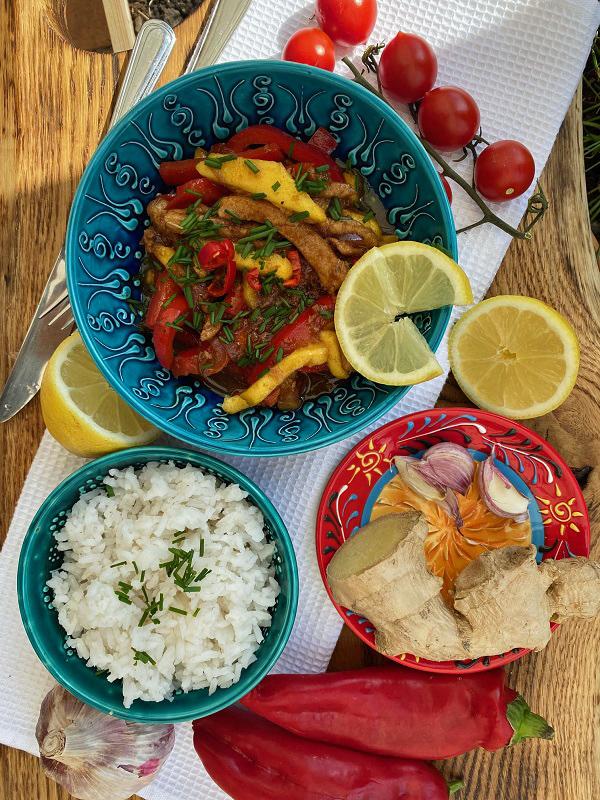 Try also:
Pad thai with duck and vegetables
Rabbit in brandy sauce with chickpeas
Mexican penchotto with minced meat