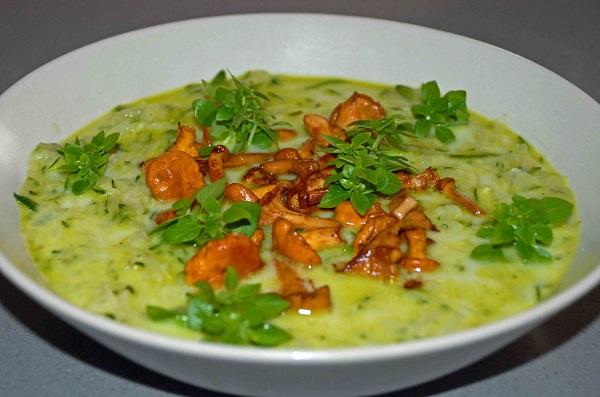 The courgette is my favourite vegetable. I always have it in my pantry. I use it to prepare cream-soup or simple vegetable soup with rice. I add courgette with red and yellow peppers to letcho. I like courgettes with green pesto or stuffed courgette with buckwheat groats or with meat. My children like grilled courgette the most. I hope that my new dish will also meet with their approval.

This time my favourite vegetables are accompanied by chanterelles and fresh, strongly aromatic basil. Thanks to these small mushrooms, this exquisite, light green soup acquires an inimitable, gentle, woodsy aroma and interesting look.

The recipe comes from a Lidl cookery book.

Ingredients:
1 courgette
1 onion
2 cloves of garlic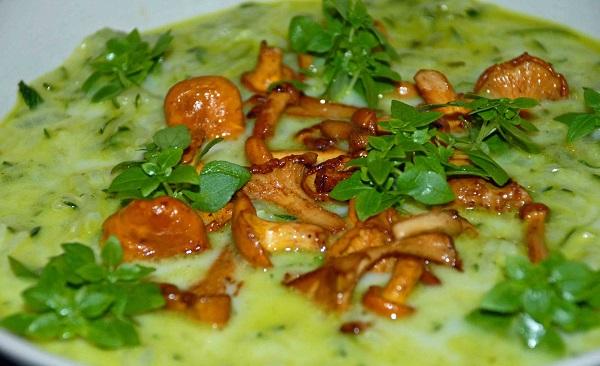 3 tablespoons of butter
0.5l of stock
100g of chanterelles
50ml sweet cream
basil
salt and pepper

Clean the chanterelles and cut the bigger ones in half.
Grate the courgette. Dice up the onion and garlic. Melt 1 tablespoon of butter in a pan and fry the onion and garlic. Add the courgette and fry for 5 minutes. Add the stock and boil for 10 minutes.
Fry the cleaned chanterelles for 5 minutes in 2 tablespoons of butter. Spice them up with salt and pepper.
Add the sweet cream to the soup, bring to the boil and if necessary spice the soup up with salt and pepper. Add the chanterelles. Decorate with basil leaves.

Enjoy your meal!