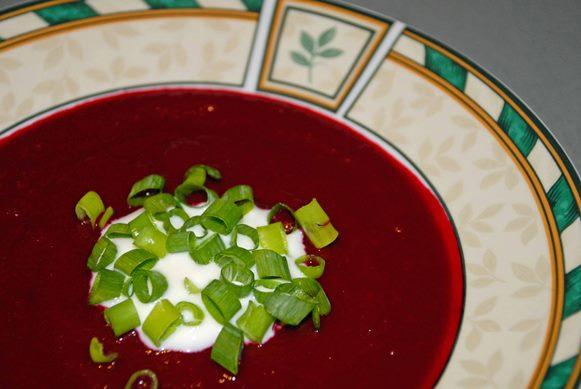 Beetroots were known already in the ancient world. This vegetable was mentioned for the first time in a Babylonian document from 722 B.C. Three hundred years later they were grown in Greece. The first references to beetroots in Poland come from the XIV century, but mass cultivation started at the end of the XV century. Nowadays our country is the leading producer of these vegetables in Europe.
Beetroots are a real treasure trove of mineral ingredients (i.e. magnesium, phosphorus, iron, manganese, copper, potassium, and zinc), vitamins (folic acid, vitamins C, B2 and B6), dietary fiber, vegetable phytosterol  and antioxidants. These ingredients lower blood pressure, help prevent cancer, aid hematopoiesis, strengthen the body's immunity and lower the level of so-called bad cholesterol in our blood.
Above all, they taste great and have a beautiful intense color. Today I would like to propose cream of roasted beetroot soup. It is very simple and almost ascetic in the number of ingredients it has. It is served with blotches of cream and minced green chives. It is a real feast for the senses.
Ingredients:
1 kg of beetroots
1 stock cube
salt and pepper
sour cream
chives
Clean the beetroots thoroughly, cut the stumps off, and wrap them in aluminum foil. Heat the oven up to 180 C and bake for one hour. Prepare a cup of vegetable broth. Peel the baked beetroots and mix them with a hand blender. Add as much hot vegetable broth as you need to get the right texture. Spice it up with salt and pepper. Serve at once with a tablespoon of sour cream and minced chives or dill.
Enjoy your meal!