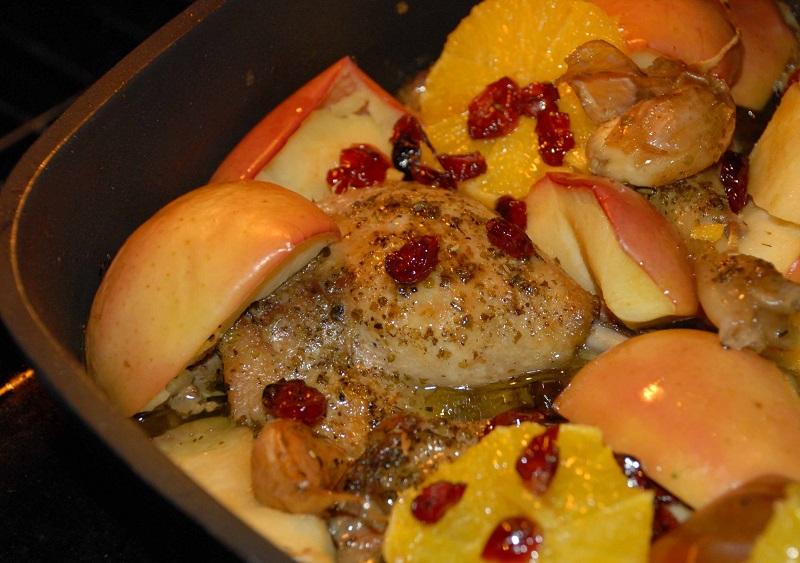 To this day I don't know how I managed to buy duck thighs instead of chicken ones. I only realised that I didn't have what I went out for when I was back home, standing at my fridge. Thinking that in any case it would be roasted, I decided not to go back to the shop to change it. After all, poultry is poultry. Thanks to this mistake, my Sunday dinner was princely.

I like the combination of meat with fruit. I usually add dried fruit when I roast pork neck, and I add apples with marjoram to fried chicken liver. This time I also used this proven method and I roasted my duck thighs with apples, oranges and cranberries. A hint of garlic and marjoram in the roasted meat completed the dish.

Ingredients:
4 duck thighs
2 tablespoons of marjoram
3 tablespoons of olive oil
1 tablespoon of mustard
1 tablespoon of honey
3 tablespoons of oil
1 teaspoon of butter
4 cloves of garlic (unpeeled)
salt and pepper
fruit
4 apples
2 oranges
3 tablespoons of sugar
2 tablespoons of butter
a fistful of cranberries

Mix the olive oil with the marjoram, honey and mustard, and spice it up with salt and pepper. Clean the duck thighs and rub them with the marinade. Leave them in the fridge for 2 hours.
Cut the apples into quarters and remove the cores. Peel the oranges and slice them. Melt the butter and add sugar. When the sugar is melted, add the oranges and cranberries. Fry for 15 minutes on a low heat. Leave it to one side.
Heat the oven up to 190C.
Heat the oil with butter in a pan. Fry the meat on both sides and put it into a casserole dish. Add the garlic (unpeeled), 2 tablespoons of water and put into the oven with the lid on for 70 minutes. Remove the lid, add the orange, apples and cranberries with the fruit sauce from the pan. Roast for 20 minutes.

Enjoy your meal!

Try also
Fragrant and light dinner –rabbit stew with vegetables and mushrooms
Goose thighs on St Martin's Day
Pork tenderloins in French pastry