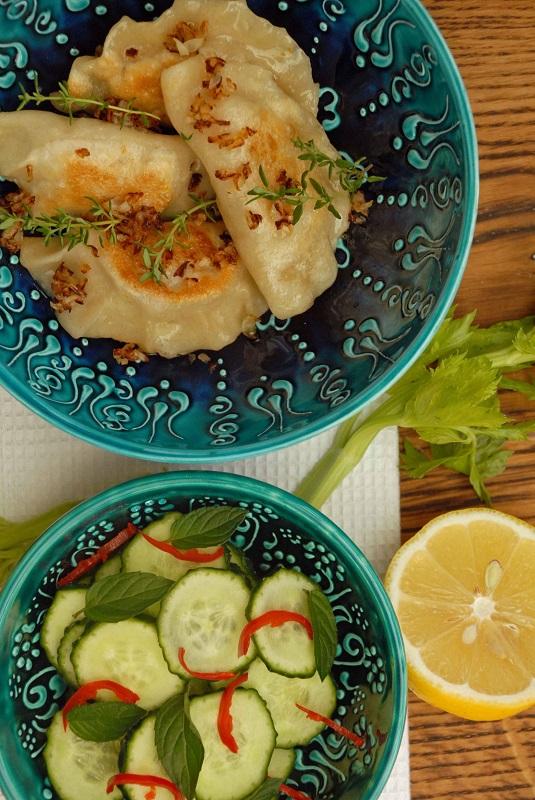 When I ask foreigners what the best Polish dish is they often say sour soup and dumplings. Many countries have their own recipes for dumplings, but apparently only in Poland are there so many types of stuffing. We can have dumplings for every occasion. We have dumplings with meat, dumplings for vegetarians and, especially for children, sweet dumplings, for example with bilberries and sour cream. It is worth mentioning royal dumplings with cabbage and mushrooms for Christmas Eve.

We like the most dumplings with meat, and "ruskie" with potatoes, cheese and onion. Sometimes I prepare dumplings with oyster mushrooms, spinach, buckwheat groats and cheese. This time I decided to prepare dumplings with lentil stuffing. I used green lentils, which are harder than red ones, and the stuffing is more compact and easier to cover with the dough.

Ingredients
dough
500g of flour
4 tablespoons of oil
250-300 ml of boiling water
a pinch of salt
stuffing
100g of dry green lentils
2 cloves of garlic
1 big onion
4 tablespoons of chopped parsley
1 tablespoon of butter
salt and pepper

Soak the lentils in water for 20 minutes. Drain and pour in double the amount of water and boil for 20 minutes. Drain and leave to cool down. Dice the onion and garlic and fry them in butter. Add them to the lentils and mix them in. Add the chopped parsley and spice it up with salt and pepper. Mix it in.
Put the flour, salt and oil into a bowl. Pour in enough boiling water to cover the flour. Don't mix it in. Leave for 15 minutes. After that knead into a smooth and resilient dough.
Sprinkle a pastry board with some flour. Roll the dough out so it is thin and flat. Cut rings from the pastry with a glass. Put a tablespoon of the stuffing onto the centre of each ring. Glue each dumpling together with your fingers to make a "furbelow" (a series of little notches along the edge). Boil in salty water for 3-4 minutes. Serve with the fried onion and bacon.

Enjoy your meal!

Try also:
Dumplings with bulgur and courgette
Conjuring reality – sweet dumplings with cottage cheese
Dumplings with oyster mushrooms