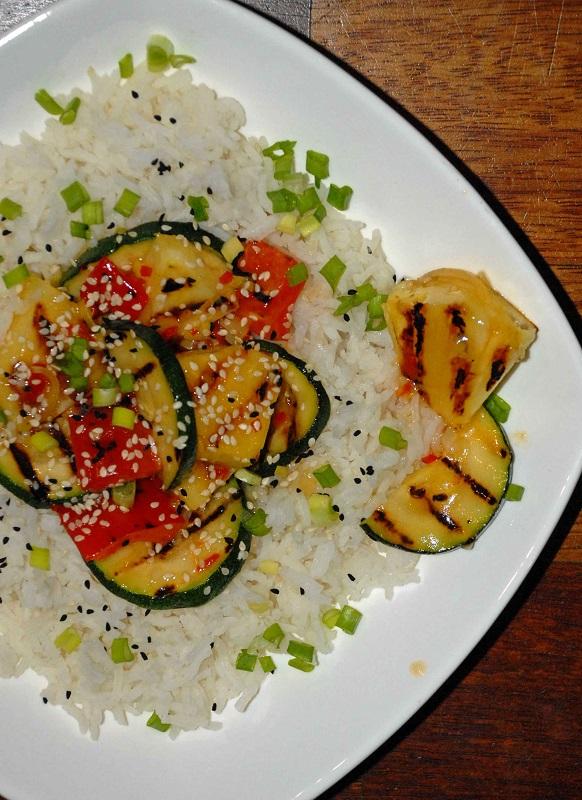 We usually associate fresh pineapple with fruit salad or desserts. A less popular option is to serve this fruit as an ingredient of main meals. Today I would like to share with you the recipe for a dish in which one of the main ingredients is pineapple. I serve it with grilled courgette and pepper and spicy sweet and sour sauce. The dish is excellent with rice and could be a warming proposition for a light winter dinner.

Ingredients (for 2 people)
half a pineapple
1 red pepper
half a courgette
4 tablespoons of minced chives
2 tablespoons of sesame seeds
1 tablespoon of nigella
sauce:
2cm piece of fresh ginger
half a chili pepper
2 cloves of garlic
4 cm piece of leek
Juice and the peel of half a lemon
2 tablespoons of honey
1 teaspoon of potato flour
1 tablespoon of coconut oil

Peel the pineapple. Cut the pineapple and red pepper into small pieces. Slice the courgette. Heat a grill pan. Grill the courgette, pepper and pineapple until the pieces are nice brown strips.
Now prepare the sauce. Finely slice the garlic, chili pepper and ginger. Slice the leek. Heat the coconut oil and lightly fry the vegetables. Don't brown them. Pour in half a cup of water and boil for 10 minutes. Stir the potato flour in a bit of cold water and add it to the pan. Boil, stirring constantly. Leave for a while to cool down. Add the juice and lemon peel, honey and salt. Mix them in. Add the courgette, pineapple and red pepper to the sauce. Serve with rice. Sprinkle with the chopped chives, sesame seeds and nigella.

Enjoy your meal!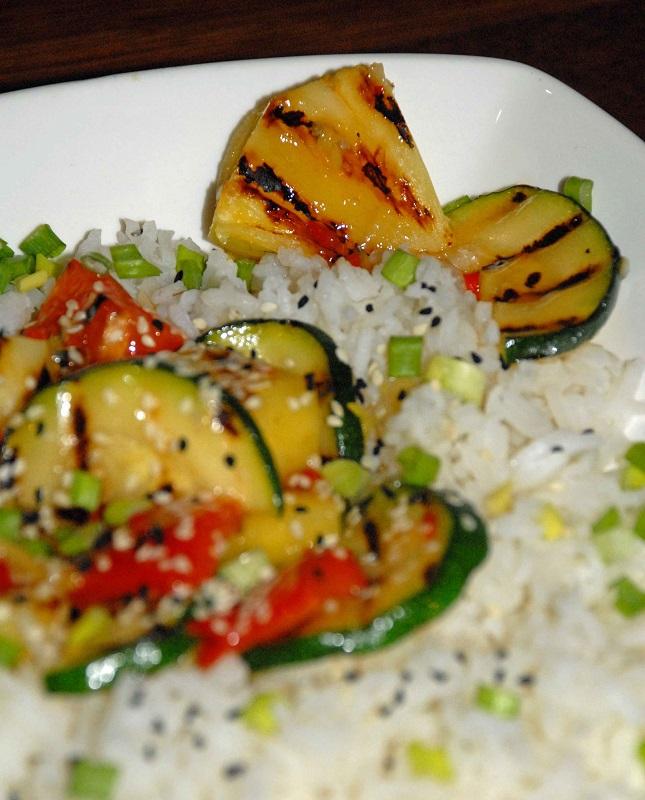 Try also
A fast dinner – buckwheat groats with feta cheese and dried tomatoes
Wholemeal pasta with courgette and goat cheese
Post-Christmas recovery time, i.e. wholemeal pasta with spinach and mozzarella cheese