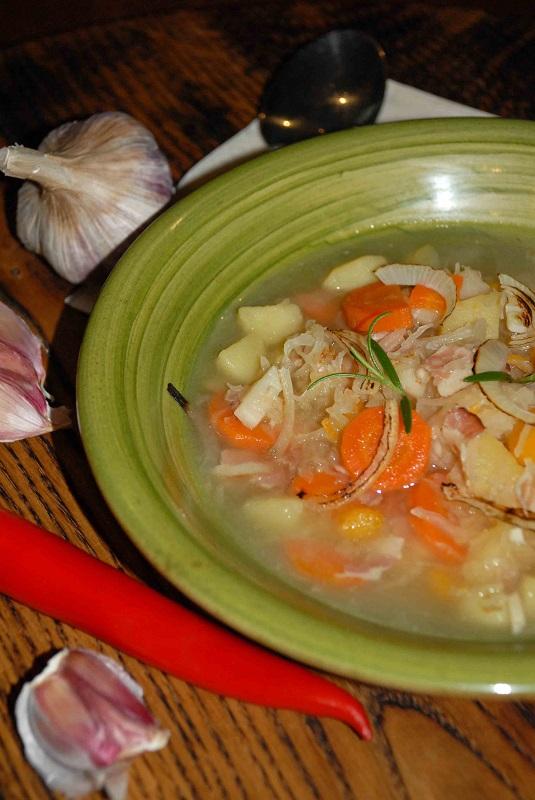 Christmas and New Year's Eve are only a memory. Warm spring days are still a long way away. From time to time it is nice to eat hot soup, which warms us up and lifts the mood. In the winter we should eat gherkins and sauerkraut, and the best are for example in salads. However, this time I would like to share with you the recipe for sauerkraut soup. I recommend adding some smoked bacon to the winter version. I don't like soups with cream or roux, so I didn't add them to the soup. If you like thick soup, add roux and spices according to your taste. In the light version don't add smoked bacon and roux, or replace them with boiled beans.

Ingredients:
300g of sauerkraut
300g of smoked bacon
3 carrots
2 parsley roots
a piece of celery root
6-8 potatoes
1 onion
2 tablespoons of butter
2 bay leaves
3 allspices
4 peppers
2 twigs of rosemary
salt and pepper

Boil 1.5 litres of water. Add the smoked bacon, carrots, parsley roots, celery, rosemary, bay leaves, allspices and peppers. Boil for 30 minutes. Add the cubed potatoes and half a teaspoon of salt. Chop the sauerkraut and fry it in one tablespoon of butter. Add the sauerkraut, cubed vegetables and smoked bacon to the soup. Boil for 10 minutes. Dice the onion. Fry it in the rest of the butter until it is golden. Add it to the soup. Spice it up with salt and pepper. Serve hot.

Enjoy your meal!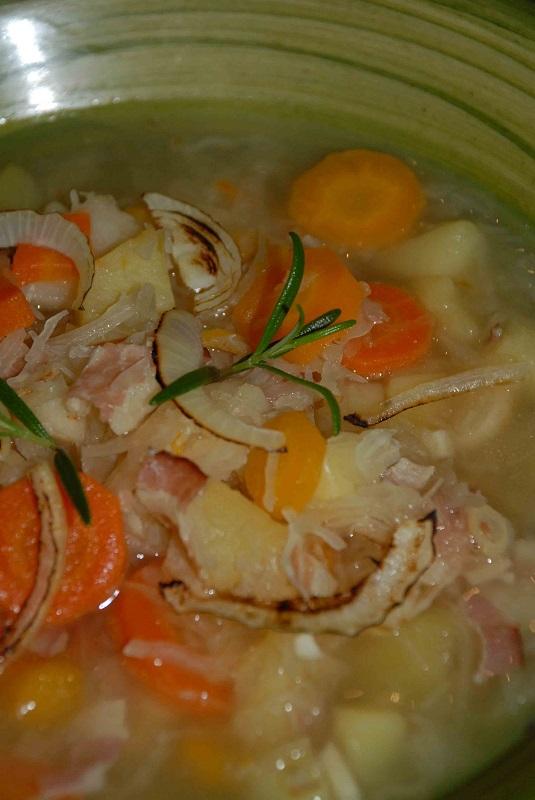 Try also:
Warming horseradish soup
Tomato soup with sauerkraut
In defiance of viruses – creamy garlic soup