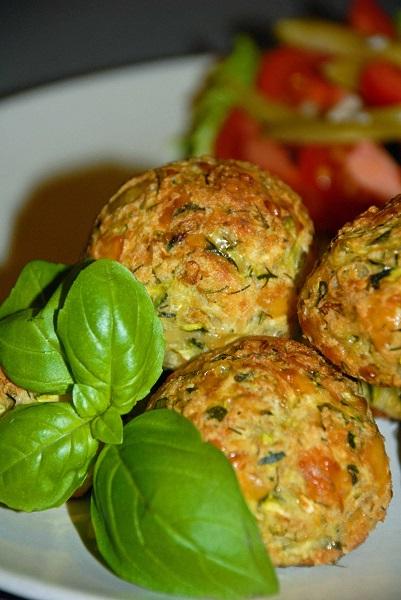 Today I would like to write about how to prepare something tasty for supper when you have an almost empty fridge. Usually, I go shopping once a week, and I buy bread, fresh vegetables and fruit. Sometimes, the day before shopping, my husband's old friend "Echo" from his bachelor days lives in my fridge. He isn't fit for eating, but his presence sparks my children's hunger and my nervousness when I hear the daily question: "Mum, what's for supper today?"

A fast survey of my fridge and on the countertop there were eggs, a courgette, an onion, two kinds of cheese and ... and that's all. Too much and not enough.... From these ingredients and a few seasonings I made some very tasty but small baked balls. You may prepare any sauce for them and you have a vegetarian dinner. We ate them with horseradish or ketchup and tomato-basil salad.

Ingredients:
2 courgettes
1 teaspoon of salt
90g of breadcrumbs
2 eggs
50g of oscypek (smoked ewe's milk cheese made in the Tatra Mountains)
50g of cheese
a fistful of minced dill
half an onion
2 cloves of garlic
1 tablespoon of olive oil
salt and pepper

Grate the courgettes. Add the salt, mix it in and leave for a half an hour. Dice the onion and garlic and fry them in oil.

Heat the oven up to 180C. Cover a baking sheet with some baking paper.

Squeeze out the water from the courgette. Add the breadcrumbs, eggs, onion, grated oscypek and cheese and minced dill. Spice it up with salt and pepper. Stir thoroughly. Form small balls from this mass and put them on the baking sheet. Bake for 25 minutes.

Enjoy your meal!