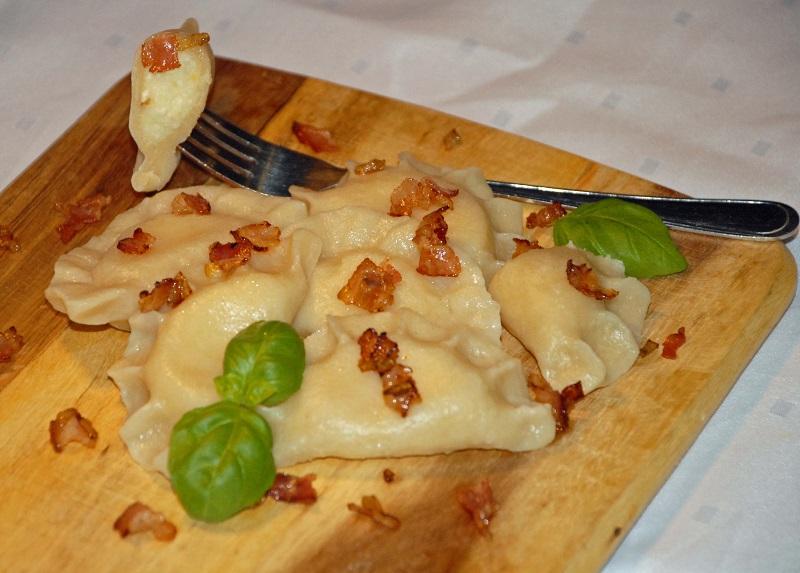 The dough is the secret ingredient of homemade dumplings. Every housewife has her secret recipe which she uses to make a soft and resilient dough. You can prepare the stuffing with everything. Today I have a recipe for my favourite Polish dumplings named "ruskie". The stuffing was made with boiled potatoes, cottage cheese and fried onion.

Until recently ruskie dumplings were brought to us by a friendly lady called Ania. She made a huge amount of dumplings and gave them to her family, neighbours and us. Sometimes she added chopped peppermint for the stuffing. They were great, but we prefer the classical ones without unusual ingredients.

Ingredients
dough
500g of flour
4 tablespoons of oil
250-300 ml of boiling water
a pinch of salt
stuffing
600g of potatoes
200g of cottage cheese
1 onion
1 tablespoon of butter
salt and pepper

Put the flour, salt and oil into a bowl. Pour in enough boiling water to cover the flour. Don't mix it in. Leave for 15 minutes. After that knead into a smooth and resilient dough.
Cook the potatoes in salty water, drain and mash them. Knead the cottage cheese with a fork. Dice the onion and fry it in butter. Add the cottage cheese and onion to the potatoes. Spice it up with salt and pepper and mix them in.
Sprinkle the pastry board with the flour. Roll the dough out so it is thin and flat. Cut rings from the pastry with a glass. Put a tablespoon of the stuffing on the centre of each ring. Glue each dumpling together with your fingers to make a "furbelow" (a series of little notches along the edge). Boil in salty water for 8 minutes. Serve with the fried onion and bacon.

Enjoy your meal!

Try also
Dumplings with oyster mushrooms
Potato crumpets
French pastry pies with chickpeas