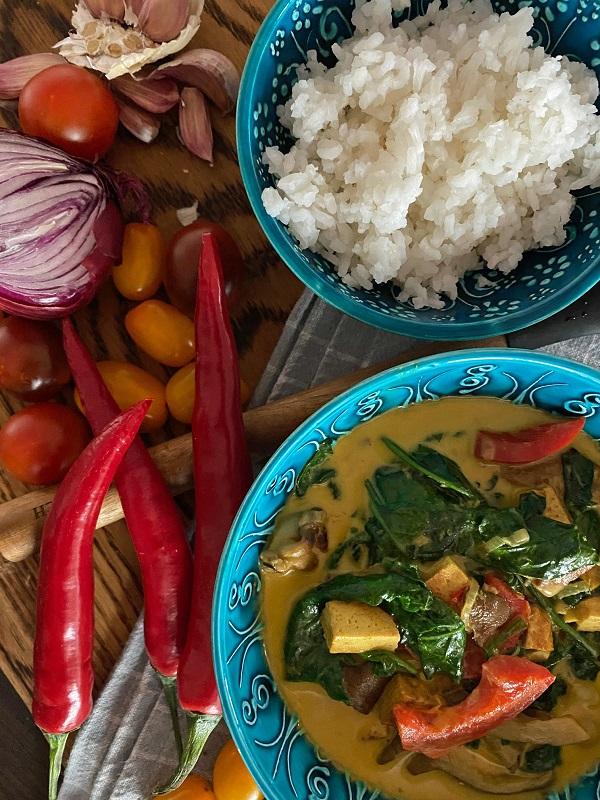 Lunch without meat? No problem. Now, when you can read everywhere about substitutes and supplements, you can make a dish in the "without" style. One of the most pleasant cookery books about "without" diets with theory and interesting recipes is Lidl's book "Jeść zdrowiej" ("Eat more healthily"). You can find details inside about a diet without meat, a completely vege diet, without dairy, without eggs and without gluten. I search for inspiration in it. Today I offer you a lunch dish without meat. I replaced it with tofu and chickpeas. I propose oyster mushrooms, tofu, chickpeas and spinach in curry. I served it with rice, but you can also use delicious kasha, pasta or bread. Try it, because it is worth it!

Ingredients (for 4 people)
200g of natural tofu
150g of chickpeas (boiled or from a tin)
200g of oyster mushrooms
1 fresh red pepper
1 shallot
2 cloves of garlic
a piece of chili pepper
300g of fresh spinach
400ml of coconut milk
2 tablespoons of oil
2-3 teaspoons of yellow curry paste
half a teaspoon of curcuma powder
half a teaspoon of sweet paprika
salt and pepper

Prepare the ingredients of the meal. Cube the natural tofu, slice the pepper and oyster mushrooms. Dice the garlic, shallot and chili pepper. Heat 1 tablespoon of the oil in a pan. Add the shallot, garlic and chili pepper and fry lightly, then add the tofu and fry until it is lightly golden. Take it out of the pan. Add the rest of the oil. Fry the oyster mushrooms. Put them to one side. Heat a bit of coconut milk in a pan. Melt the curry paste, curcuma and paprika in it. Add the tofu, oyster mushrooms, chickpeas, pepper and the rest of the coconut milk. Boil for 2-3 minutes. Add the spinach and blanch it. Spice up the meal with salt and pepper. Serve with the rice.

Enjoy your meal!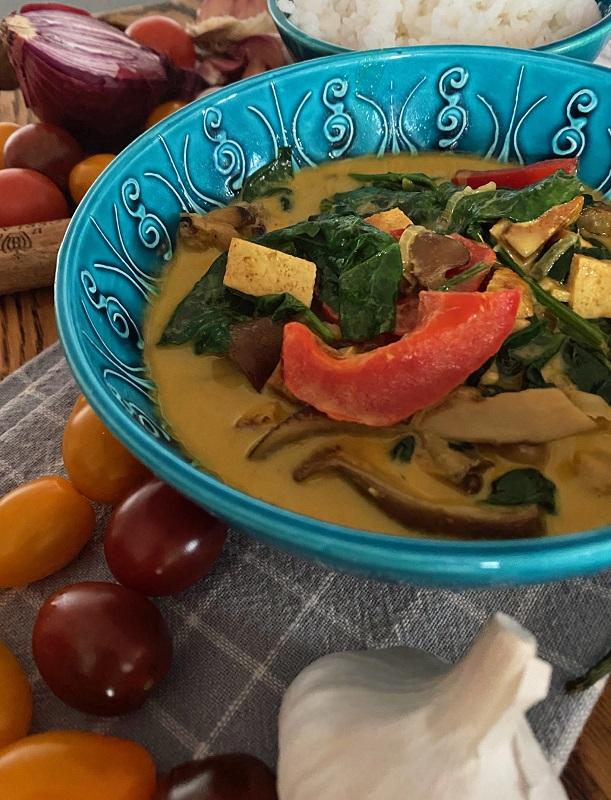 Try also:
Spinach and oyster mushrooms
Mushroom stew with beans
An easy mistake – stew with oyster mushrooms