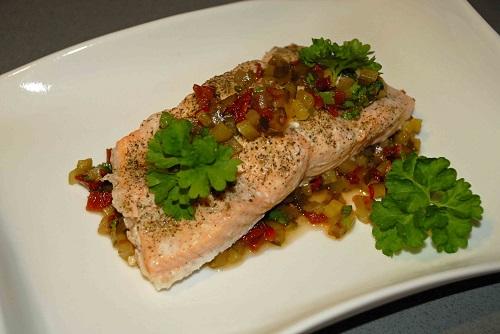 There are a lot of homemade dishes which, even though they are great, have simply palled and don't taste like they did in the past. The devil is in the detail and it is the same in the kitchen. Today I would like to show you a way to change dull salmon into an excellent dish. The secret is salsa.

This Mexican dish prepared with ground or finely diced fruit and vegetables with seasoning has been known in Poland since year one. The first written mention in the Polish-Latin dictionary comes from the year 1564. In the "Old Polish pictorial encyclopaedia", written in 1900, the historian, archaeologist and ethnographer Zygmunt Gloger described it as "an acidulous seasoning for dishes, usually a sauce prepared with vinegar". So it isn't a new invention but a crunchy sweet-and-sour dish with a slightly piquant taste, which can change ordinary fish into an interesting meal. I discovered it thanks to my sister and due to the Lidl cookery book.

Ingredients:
4 pieces of salmon
4 gherkins
6 dried tomatoes from olive oil
chili pepper
1 clove of garlic
2 tablespoons of minced coriander
1 teaspoon of grated fresh ginger
1 tablespoon of honey
2 tablespoons of olive oil
lime peel from a half of lime
juice from half a lime
coriander leaves

Spice the salmon up with pepper and barbeque it on a grill pan for 2-3 minutes on both sides, turning it a few times. Steam it for 15-20 minutes if you like a lighter version of the dish. Dice the gherkins, chili pepper, tomatoes and garlic finely. Mix them in with the rest of the ingredients and leave for 15 minutes. Put three tablespoons of salsa on a plate, then put the salmon on top. Decorate with a spot of salsa and the leaves of coriander.

Enjoy your meal!