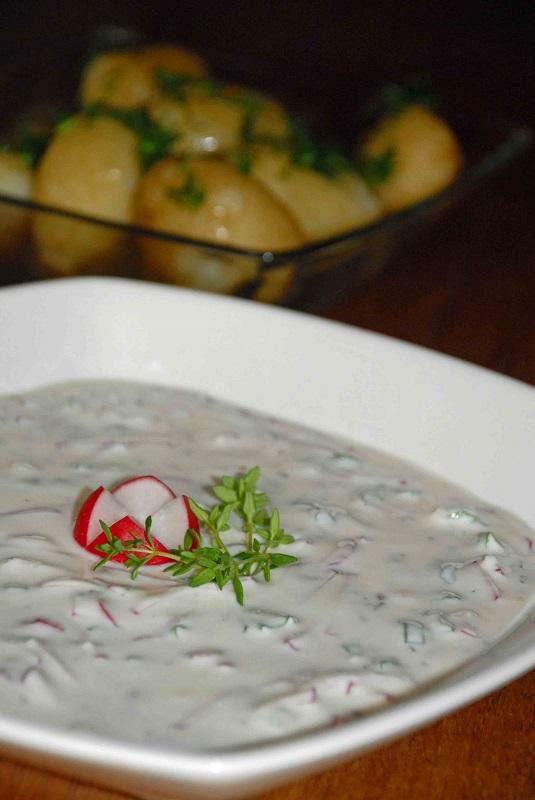 Actually, I don't dig cool soups. My husband always complains that I serve them too hot. cold soups are the exception of course. Until now I have made cold beet soup with chard and a white cucumber-peppermint soup. My son doesn't like the first one. Pink soup is so unmanly


Recently, I prepared another version of my most summery soup. Creamy cold radish soup with a hint of garlic and thyme was refreshing and very tasty and only takes a moment to prepare. It is the best with new potatoes liberally sprinkled with dill. It is an excellent dish for a quick and easy dinner on a hot summer day. And it is only a little bit pink ...

The recipe comes from "Smaki życia" ("Flavour of Life") by Agnieszka Maciąg.

Ingredients (for 4 people)
2 bunches of radishes
1l of natural yoghurt
2 cloves of garlic
2 tablespoons of minced thyme
4 tablespoons of minced chives
salt and pepper

Clean the radishes and grate them. Crush the garlic. Mix the radishes in with the garlic, chives and thyme. Add the natural yoghurt, spice it up with salt and pepper and mix it in. Serve with hot new potatoes with dill.

Enjoy your meal!

Read also:
Cold beet soup – the most summery soup
Cold cucumber soup
Bilberry soup