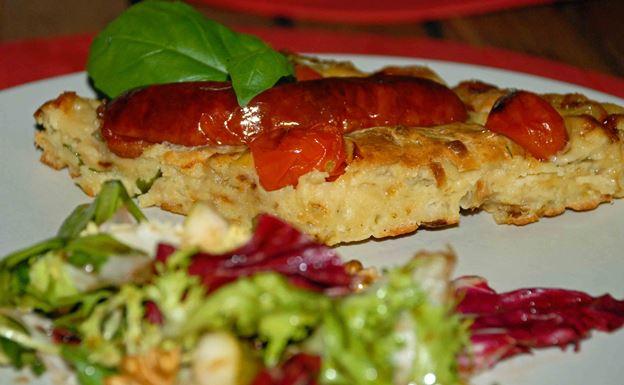 I have already written about the cookery book by Kevin Aiston. Today, coaxed by my children, I used one of the recipes. "Toad in the hole" has been known in the United Kingdom since the year dot. The oldest recipe dates back to 1747 when it was made with pigeon, whereas now we add sausages. Sicilians copied toad in the hole and serve their own version called frittola.
To tell the truth I don't know why this dish is called "toad in the hole" and I approached it with great caution. To my surprise it was delicious! The dish is simple to prepare and remarkable because most children like sausages. According to the original recipe, you should add rosemary to the dough. I didn't have any so I added some minced basil and cherry tomatoes. It was a good choice. I baked 4 sausages; you can use as many as you need and as many as you can fit in your casserole dish.
Ingredients:
4 sausages
3 tablespoons of oil
2 onions
150g of flour
2 eggs
150ml of milk
1 fistful of basil
8 cherry tomatoes
salt and pepper
Heat the oven up to 200C.
Slice the onion and fry in oil until it is golden. Leave to cool down. Pour some oil into a casserole dish, put the sausages in and coat them with the oil. Bake for 10 minutes. Make a smooth dough from the four, milk and eggs. Spice it up with salt and pepper. Add the minced basil and mix it in. Remove the sausages from the oven and quickly, while the oil is hot, cover them with the dough. Put the cherry tomatoes between the sausages. Bake for 30 minutes. Serve hot with salad.
Enjoy your meal!