Today I would like to share with you the recipe for light spring lemon muffins with poppy seeds.

Topped with white icing and sprinkled with lemon peel or colourful spring decorations they will be, as well as the Mazurek cake, an excellent decoration for the Easter table. If you usually prepare an Easter basket, you can put the beautiful muffins into it. You can use an egg (one egg in this recipe) for these muffins or like me use a blended banana. Regardless of this, your muffins will be gentle, fluffy and very lemony. In one word: "yummy!".

Ingredients:
225g of flour
a pinch of salt
180g of sugar
1 teaspoon of baking powder
2 tablespoons of poppy seeds
1 banana
150ml of milk
175ml of oil
juice and peel grated from one lemon
lemon icing

Heat the oven up to 190C. Put some paper muffin moulds into the "dimples" of a baking pan for muffins.
Blend the milk, oil, banana, and lemon juice. Mix together the dry ingredients of the muffins: flour, poppy seeds, sugar, baking powder and salt. Add the banana mixture to the dry ingredients and mix them in.
Put the dough into some paper muffin moulds and bake for 25 minutes. Decorate with the lemon icing before serving.

Enjoy your meal!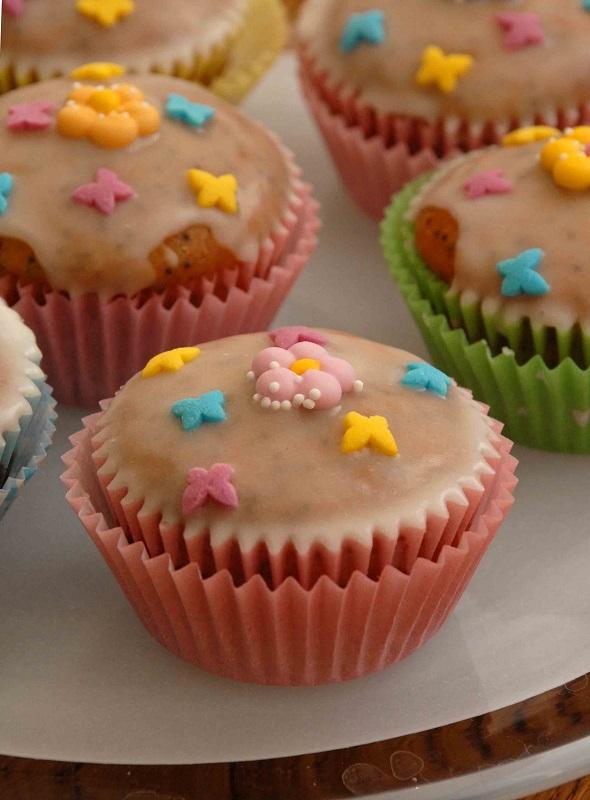 Try also:
Chocolate paschal dish
Small Easter cake for the Easter basket
Swift French pastry with white chocolate, tahini and fruit