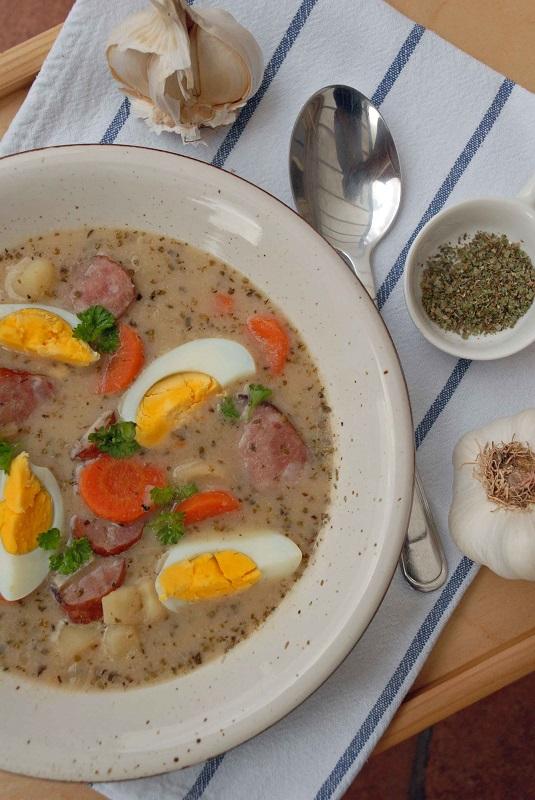 Sour soup, white borscht, red borscht with horseradish, sausage and eggs are part and parcel of the Easter menu. In my home we always had red borscht on the Easter table. We also like sour soup, but the custom dictates that we eat this soup on wet Monday or without occasion, just to make my family happy.

If you have enough time, make the sourdough for the sour soup yourself. It doesn't need any extraordinary abilities. Put 100g of rye flour with a crushed clove of garlic, a couple of allspices, peppers and bay leaves, a piece of good wholemeal bread and 1l of warm water in a clean wide jar. Cover with a clean tea cloth and leave for 5 days. If you don't have enough spare time, use a readymade product.

Ingredients:
2 carrots
2 parsley roots
0.5kg of potatoes
a piece of celery root
a few dried mushrooms
3 allspices
3 peppers
2 bay leaves
0.5l of sourdough
1 onion
2 cloves of garlic
1 tablespoon of butter
300g of sausages
2 tablespoons of marjoram
100ml of sweet cream
2 tablespoons of horseradish
4 eggs
salt and pepper
parsley

Put the parsley root, carrots, celery root, mushrooms, allspices, bay leaves and pepper into a big pot. Pour in 1l of water and boil for 40 minutes. Take out the mushrooms and vegetables and dice them. Add the peeled and cubed potatoes to the vegetable stock. Slice the sausage, fry it in a pan and add it to the stock. Boil for 15-17 minutes. Dice the onion and garlic. Fry them in butter. Pour the sourdough, cubed vegetables and onion and garlic into the boiling soup. Boil for 2-3 minutes. Add the horseradish and sweet cream. Spice the soup up with salt, pepper and marjoram. Serve hot with the hard boiled eggs and parsley.

Enjoy your meal!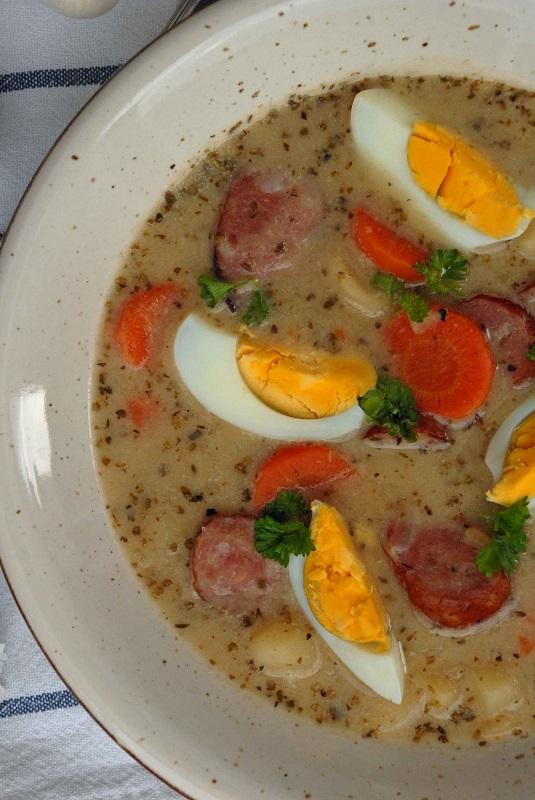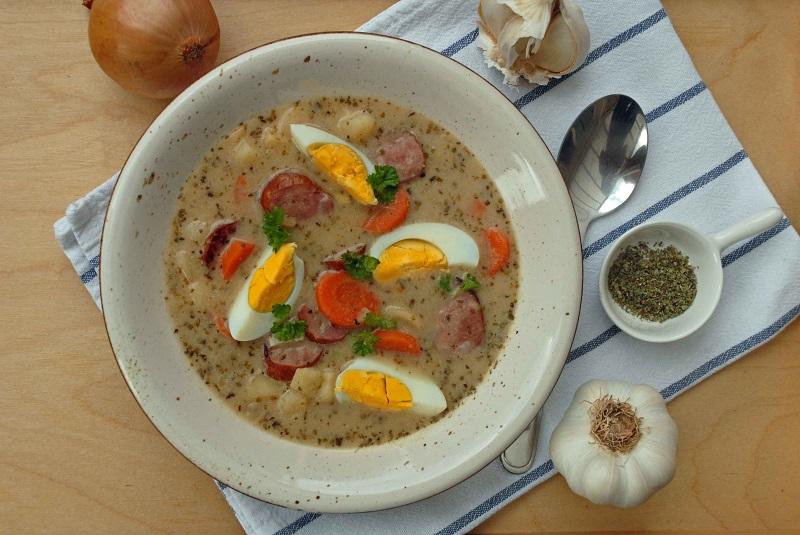 Try also:
Red eggs
Vanilla-chocolate Easter cake
Chocolate paschal dish