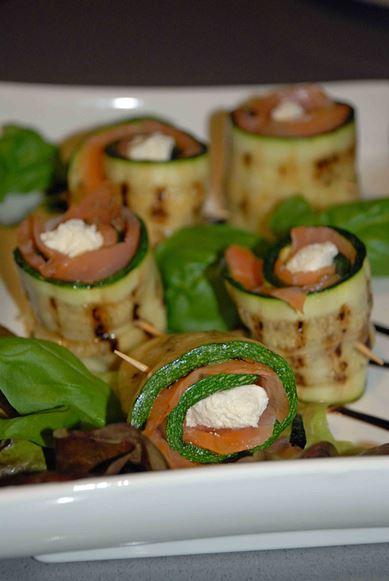 Courgette is a product with significant culinary potential. You can eat it raw or cooked. It is excellent grilled, fried or stuffed. It is now possible to buy many different varieties of this vegetable and it has made dishes more interesting and tasty. This year I ate for the first time raw courgette in a salad with carrot, dill and onion. It was very tasty.
My children like grilled courgette the most so this is how it is served most often on our table. This time I use grilled courgette to prepare a light and dainty snack with smoked salmon and cottage cheese. You may spice up the filling in your own way using natural cottage cheese and onion, garlic, horseradish and herbs. I use ready horseradish cottage cheese and enrich it with thyme. This dish is elegant and colourful. It is perfect as a starter before a slap-up meal and as a light supper or snack.
Ingredients for 8 rolls
2 little courgettes
200g of smoked salmon
200g of horeseradish cottage cheese
1 teaspoon of dried thyme
olive oil
basil leaves
salt and pepper
Clean the courgettes and slice them up lengthways. Sprinkle with olive oil. Grill in a grill pan on both sides. Spice them up with salt and pepper and leave to cool down. Spice up the cheese with thyme. Put salmon slices on every courgette slice. Put some cheese on one side and roll it up tightly. Staple it together with a cocktail stick. Decorate with basil leaves. It tastes excellent with a chilled white wine.
Enjoy your meal!