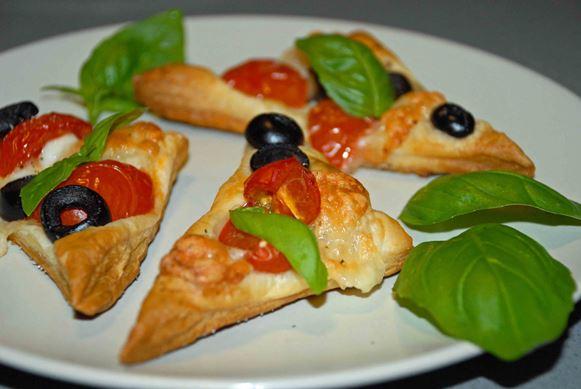 Extraordinary, fast and simple recipes are always valued. I am especially interested in them because I have so little time in the afternoon. My proposition for little sandwiches made from French pastry offer a supper which you can prepare in a flash and, what's more, they are not just ordinary frankfurters. The remarkable recipe:
Ingredients:
1 pack of chilled French pastry
120g of mini mozzarella cheese
200g of cherry tomatoes
10 black olives
basil leaves
salt and pepper
Heat the oven up to 200C. Cut the French pastry into triangles. Cover a baking sheet with some baking paper. Put the triangles on the baking sheet, keeping them separate. Slice olives. Cut the tomatoes and mozzarella balls into halves. Put the mozzarella cheese, olives and tomatoes on each triangle and spice them up with salt and pepper. Bake for 20 minutes. Decorate with basil leaves.
Enjoy your meal!