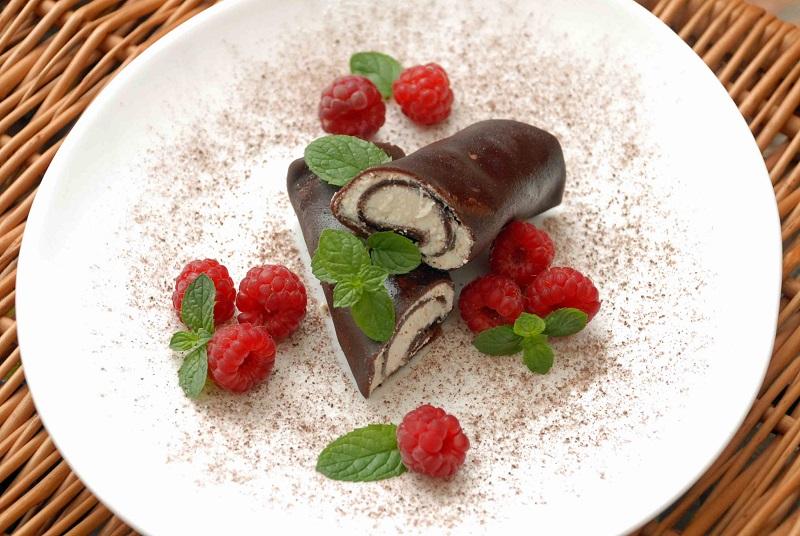 It somehow occurred recently that on Friday at the end of a difficult week my children asked me for crepes for dinner/supper. Usually, I prepare traditional crepes with cottage cheese, natural yoghurt and chocolate icing. Fortunately, my children love fruit, so I can add it to crepes without a problem. This time I prepared a new special edition of the crepes. The chocolate crepes with vanilla cottage cheese and a hint of raspberry were excellent and looked beautiful. Fortunately, the raspberry season has just begun.

Ingredients:
dough:
300g of wheatmeal
300ml of milk
300ml of water
100ml of oil
1 egg
3 tablespoons of dark cocoa
a pinch of salt
stuffing
200g of raspberries
1 teaspoon of brown sugar
2 teaspoons of orange juice
200g of cottage cheese
100g of natural yoghurt
2 teaspoons of caster sugar
1 teaspoon of vanilla sugar

Wash the raspberries (leave a few nice ones aside for decoration), then put them with the brown sugar and orange juice into a pot. Boil until the raspberries are soft and the juice is thick. Puree the raspberries to remove the stones. Crush the cottage cheese with a fork and mix it in with the yoghurt, caster sugar and vanilla sugar.
Mix the milk, water, egg, oil and salt together. Add the flour little by little and mix with a mixer to make a smooth and runny dough (if the texture isn't right, add flour or water). Add the cocoa and mix it in thoroughly. Tip a portion of the dough into a pan and spread it by moving the pan around. Fry the dough on one side, then flip it over when the raw dough has gone and fry for a while. Put it on a plate.
Spread the crepes with the thick raspberry mousse, and then put the cottage cheese on top and roll them up the way you like. Decorate with the raspberries and peppermint leaves and serve at once.

Enjoy your meal!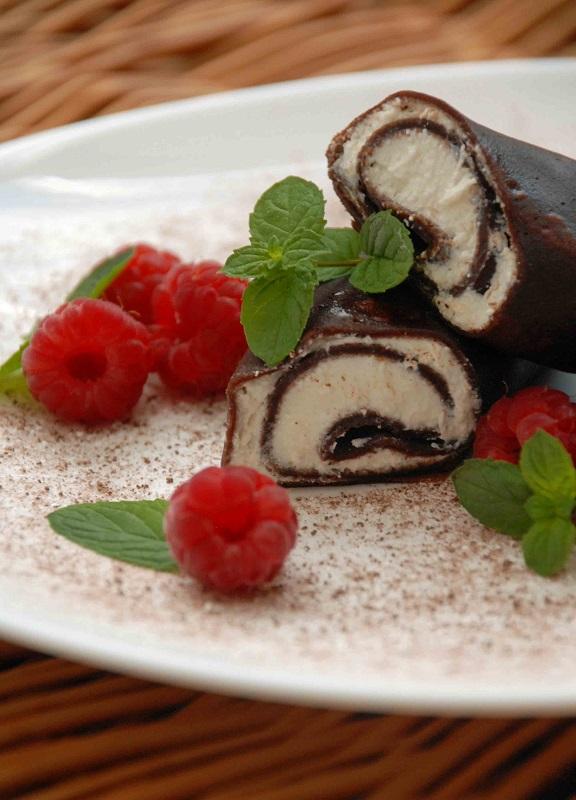 Try also
A new approach to crepes
Crepe dreams
Conjuring reality – sweet dumplings with cottage cheese