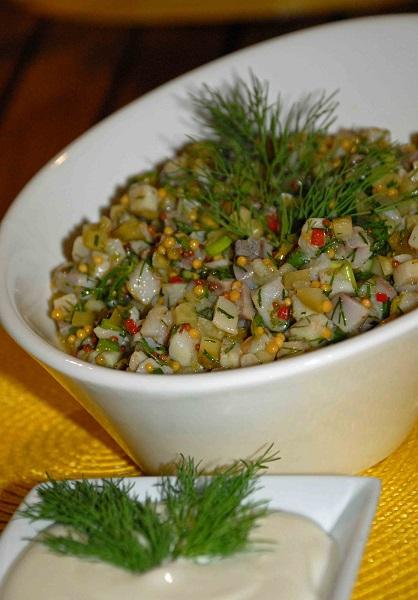 Encouraged by an excellent steak tartare with smoked salmon, I decided to prepare a similar dish with herrings. I found the recipe in Lidl's "fishy" cookery book. This dish is rather a little snack or starter before the main course and is extra dry despite the added honey. It is piquant, a bit sour and salty – in a word: expressive. In my opinion this dish is perfect for a party in the company of men, and it is good with heavily chilled vodka. But our ancestors already knew that the fish likes to swim, didn't they? In the original recipes steak tartare was served with thick cream. I didn't like it, but you should try it and decide for yourselves.

Ingredients (for 4 people):
500g of herring pieces
juice and lime peel
1 spring onion
3 dill pickles
1 chili pepper
1 bunch of dill
3 tablespoons of French mustard
1 tablespoon of honey
20ml of olive oil
salt and pepper
4 tablespoons of cream

Drain the pieces of herrings, rinse them and dry with a kitchen towel. Dice them, add the juice and lime peel and leave in the fridge for 1 hour. Dice the onion and dill pickles (a bit more finely than the herrings). Chop the green part of the spring onion as well and leave it for decoration. Chop the dill (leave a few leaves for decoration) and chili pepper. Add the onion, dill pickles, chili pepper and dill to the herrings. Mix them in. Add the honey, mustard and olive oil and spice the dish up with salt and pepper. Stir once again. Put into small bowls, sprinkle with the minced green part of a spring onion and the dill leaves.

Enjoy your meal!