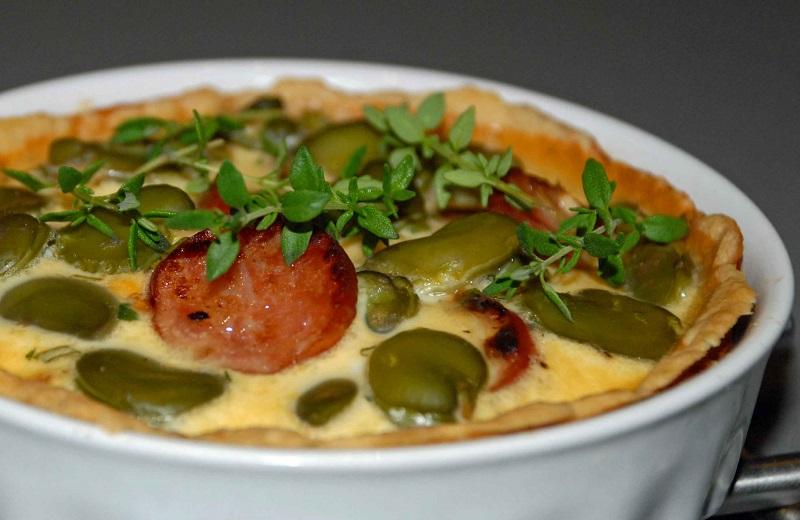 All year long I wait impatiently for two summer treasures. The first are strawberries and the second are broad beans. I know that I can buy both of them frozen, but the flavour of fresh products is incomparable.

We like cooked broad beans. Regardless of how many we cook, we are able to eat them all. My daughter also loves broad beans, but she used to eat a good deal more. Many times I have used broad beans in salads. Today I would like to share with you a recipe for shortbread mini tarts with broad beans and slices of sausages. The dish smells of rosemary and thyme and it is excellent as a not so substantial dinner or a slightly richer supper.

Ingredients (for 3 people)
dough
150g of flour
1 egg
75g of butter
1 tablespoon of minced rosemary
1 tablespoon of minced thyme
a pinch of salt
stuffing
100g of sausage
3 fistfuls of broad beans
10cm piece of leek
1 tablespoon of minced rosemary
2 tablespoons of minced thyme
1 tablespoon of butter
3 eggs
150ml of milk
salt and pepper

Mix the flour, salt, rosemary and thyme in a bowl. Add the butter and eggs and quickly knead into a smooth dough. Cover with a plastic wrap and leave in the fridge for half an hour.
Prepare the ingredients of the stuffing. Cook the broad beans, drain and peel them. Slice the sausages and leek. Melt the butter in a pan. Lightly fry the leek. Mix the eggs and milk, rosemary and thyme in a separate bowl. Spice it up with salt and pepper.
Heat the oven up to 180C. Smooth some small casserole dishes with butter. Cover them with the dough, leaving the edges slightly raised around the sides, prick them with a fork and cover with baking paper. Put some dried peas on top of the paper. Bake for 10 minutes. Remove the paper and bake for another minute. Take the dishes out from the oven. Don't turn off the oven.
Arrange the slices of sausage, leek and cooked broad beans on top of the mini tarts. Put the milk-egg mixture on the top. Bake for 25 minutes.

Enjoy your meal!

Try also
Spring asparagus breakfast
Salad with broad beans and dried tomatoes
Eggs in Parma ham baskets.