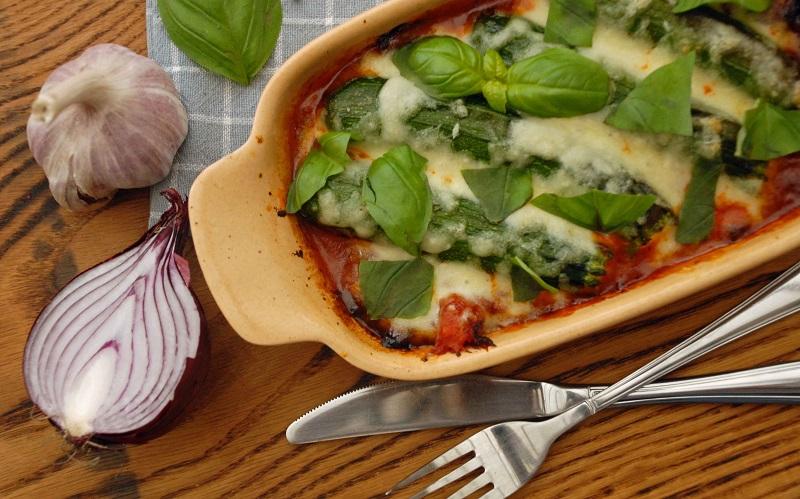 Recently, in a friendly market, I found a nice little courgette. I haven't seen them before. It is strange because every kind of courgette in the autumn and winter season is my favourite vegetable. Before I could decide what to do with the little courgettes, I already had some of them in my bag. It seemed to me the courgettes should stay whole, so as to fully enjoy their interesting shape. I decided to prepare the courgettes as simply as possible. I roasted them in a fragrant, spicy tomato sauce with smoked bacon. The grated mozzarella cheese was the finishing touch to my excellent dish. You can prepare a vegetarian version of this meal – just don't add the smoked bacon. Your dinner will also be great.

Ingredients (for 2 people)
1 tin of tomatoes
1 onion
2 cloves of garlic
chili pepper
2 twigs of rosemary
2 twigs of thyme
100g of smoked bacon
8-10 small courgettes
150g of mozzarella cheese
basil leaves

Heat the oven up to 180C.
Cube the smoked bacon and fry (start with a cool pan) until the fat is melted. Dice the onion, garlic and chili pepper and fry them with the bacon. Add the tomatoes, rosemary, thyme and boil for 15 minutes. Spice it up with salt and pepper. Remove the rosemary and thyme twigs. Put the tomato sauce into two small or one big casserole dish. Arrange the small courgettes on top of it. Roast for 25 minutes. Sprinkle with the grated mozzarella cheese and roast for 5 minutes. Decorate with some basil leaves before serving.

Enjoy your meal!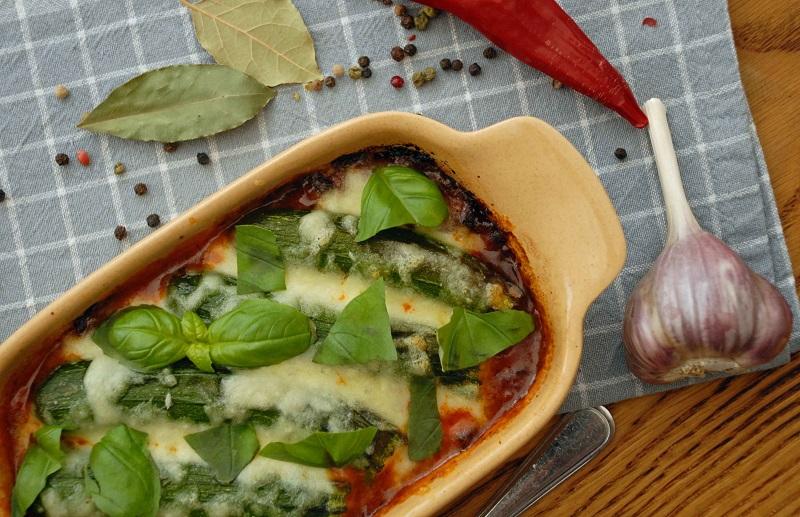 Try also:
Olive sandwiches for lunch
Easy snack – courgette in pancake batter
Colourful light snack