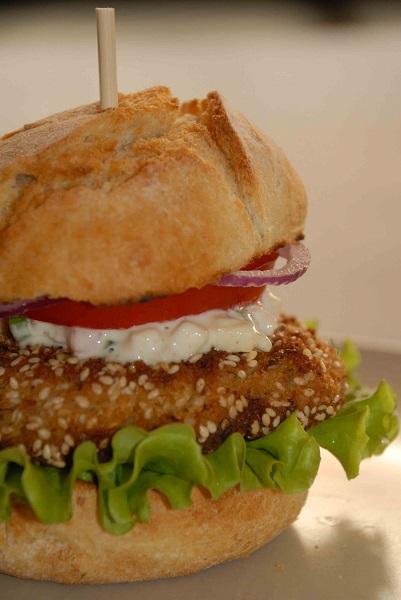 Usually, I don't give the recipe for a whole dish. Sometimes I suggest what in our opinion the main ingredient tastes best with. Everybody has their favourite flavours and side dishes. In our past there were also well established combinations: on Sunday dinner there should be broth, roast chicken, chips and lettuce; we always served frikadellers with potatoes and fried carrots; and we liked beef stew with buckwheat groats and gherkins. However, sometimes it is worth thinking out of the box and trying other combinations. The new quality of the food can surprise us.

Today for a change, the dish is a complete meal. It has everything you need. You may add of course your favourite salad, but it isn't necessary. When my children see fish, they ask me for salad with sauerkraut.

The idea for a fisherman's burger (for this dish is my recipe today) was created on holiday when my daughter ordered a meal with a similar name and she was very disappointed. The fish – which came in a crispy roll ¬- was so heavily spiced that we didn't know if it was a fish or something different. You may use any kind of fresh fish to prepare a fisherman's burger: codfish, hake or pollock, but salmon would be great as well.

Ingredients (for 4 people):
Fish burger:
500g of fresh fish
1 onion
1 clove of garlic
4 tablespoons of minced dill
1 small kaiser roll
1 egg
200ml of milk
1 tablespoon of butter
salt and pepper
3 tablespoons of breadcrumbs
3 tablespoons of sesame seeds
Dip:
3 tablespoons of mayonnaise
2 tablespoons of natural yoghurt
½ onion
½ apple
6 pickled mushrooms
½ teaspoon of mustard
pepper
others
4 fresh kaiser rolls
lettuce
tomato
red onion

Heat the oven up to 180C.

Dice the onion and garlic and fry them in the butter. Soak the small kaiser roll in milk. Mince the fish. Add the squeezed kaiser roll, onion, garlic, dill and egg. Spice it up with salt and pepper and stir thoroughly. Mix the breadcrumbs with the sesame seeds. Make burgers with the fish mixture, cover them in breadcrumbs and sesame seeds and fry until they are golden. Put the fish burger into a casserole dish and bake for 30 minutes.

Make the dip. Dice the mushrooms, onion and apple. Mix the mayonnaise, mustard, onion, mushrooms and apple. Spice it up with pepper and leave in the fridge for a while.

Prepare lettuce, tomato slices and onion rings.

Cut the fresh kaiser rolls into halves. Grill them for a while to make them crunchy. Put on the plate one half of a kaiser roll. Put on the roll one tablespoon of the dip, one lettuce leaf, one fish burger, another tablespoon of dip, a slice of tomato and some onion rings. Cover with the second half of the kaiser roll and pin it together with a medium size cocktail stick.

Enjoy your meal!