I think that new potatoes are already everywhere. We really like them, especially prepared in their skins and served traditionally with butter and dill. Add cold kefir or natural yogurt plus fried eggs, and you have a dinner for a hot day.

Today I want to offer you a simple Polish dish, which is also perfect for a quick lunch or snack on a summer day. Pyry z gzikiem (potatoes with spicy cottage cheese) are potatoes cooked in their skin (they don't have to be new – but now they are the best) served with a spicy version of curd cheese. It's enough to add chives, dill, salt and pepper, but I also added a lot of radish, which I really like and goes perfectly with curd cheese and potatoes. Golden fried bacon was the finishing touch. You can leave it out, but if there is a carnivore in your house, the dinner won't be complete without it 


Ingredients (for 2 people)
4 new potatoes
200g of cottage cheese
100ml of natural yoghurt
6-8 radishes
3 tablespoons of chopped dill
3 tablespoons of chopped chives
chopped chili pepper
100g of smoked bacon
salt and pepper

Dice the smoked bacon and fry until it is golden. Wash the potatoes (don't peel them) and boil in salty water. Grate the radishes. Crush the cottage cheese with a fork. Add the yoghurt, chives, dill, chili pepper and radishes. Spice them up with salt and pepper and mix them in. Cut the potatoes into halves. Arrange the cottage cheese mixture and a teaspoon of the bacon on each of them. Decorate with the dill and the radish slices.
Enjoy your meal!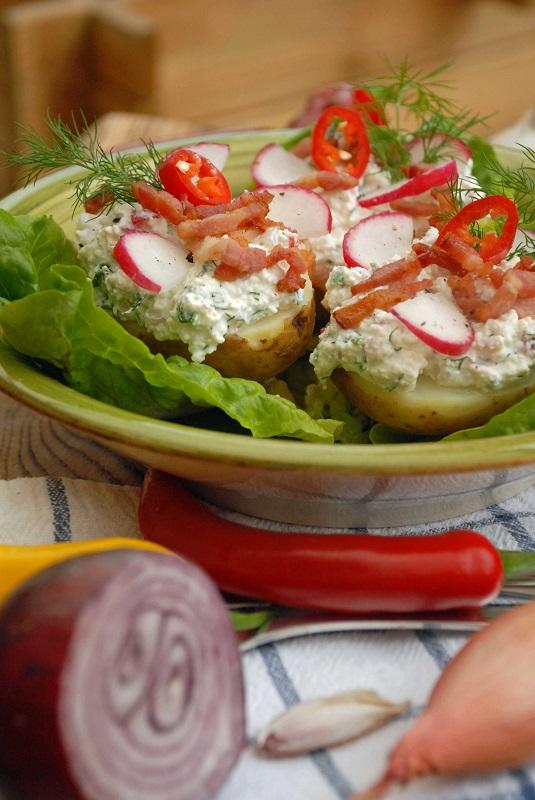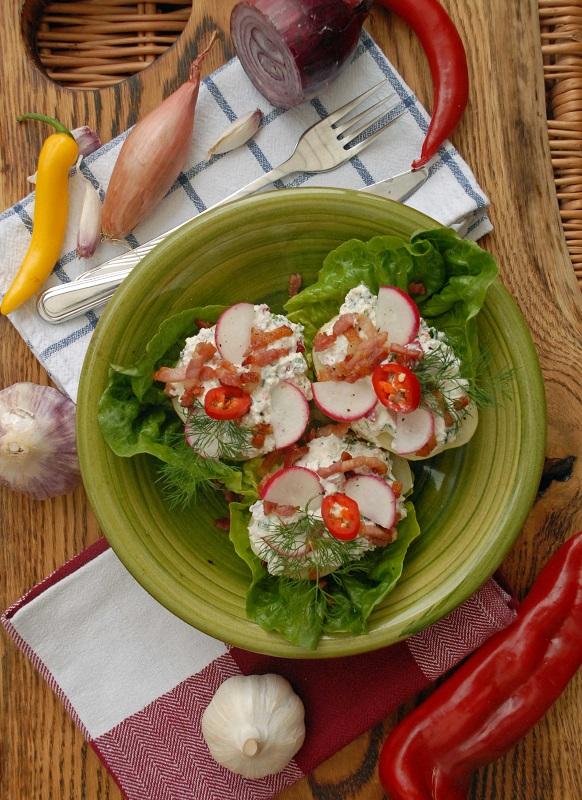 Try also:
Pineapple in pancake batter with coconut cream
New approach to chili con carne
Bruschetta with tomatoes and avocado