There are some products which you can't stop eating. For example, crisps, nuts, small cookies and popcorn at the cinema. It doesn't matter how many you put in the bowl, you have to eat everything. Is it the same for you? On the other hand there are situations when we have to nibble something. It is necessary while reading an exciting book, watching an interesting movie and when meeting your friends.

Today I would like to share with you the recipe for two snacks which are a great alternative to their unhealthy, salty counterparts. They are yummy and easy to prepare. If you would like to make something else, I recommend homemade crisps with kale or finger rolls with French pastry and basil pesto and sesame seeds. In the recipe below I didn't include the amount of ingredients you should use. Use as much as you need to make as many snacks as you think you can eat.

Courgette chips
courgette
flour
vegetable milk
breadcrumbs
parmesan
sesame seeds
thyme
salt and pepper
Heat the oven up to 200C. Cover a baking sheet with baking paper.
Cut the courgette into strips. Take three bowls: the first with flour, second with milk, and the third with breadcrumbs and parmesan in a ratio of 1 to 1. You may also add some sesame seeds. Spice up the mixture in the third bowl with salt, pepper and thyme. Coat every piece of courgette in the flour, soak in the milk and coat them in the mixture with parmesan. Put the courgette pieces onto the paper. Bake for 15 minutes. Turn them over halfway through baking.

Chickpeas from the oven.
chickpeas
olive oil
chili pepper
garlic
mixed herbs
salt
Heat the oven up to 200C. Cover a baking sheet with baking paper.
Mix the olive oil with the mixed herbs, finely chopped chili pepper and crushed garlic. Add a little salt, add the chickpeas and mix them in. Put the chickpeas onto the paper. Bake for 15 minutes. Stir the chickpeas halfway through baking.

Enjoy your meal!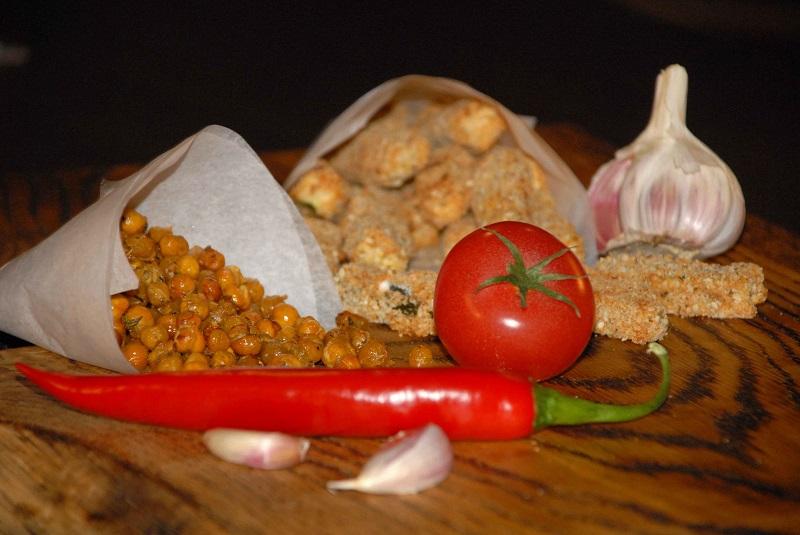 Try also
Homemade crisps
French pastry rolls with courgette and goat cheese
Something to nibble: finger rolls with French pastry and basil pesto